Energy Is Set To Keep Whupping Tech Next Year Too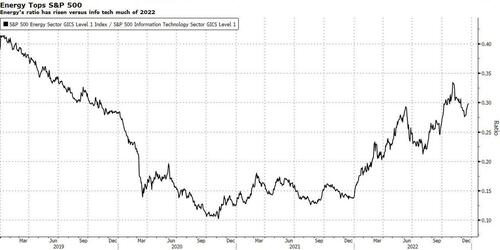 By Heather Burke, Bloomberg markets live reporter and analyst
Energy displaced tech as the must-have trade of 2022. It still has momentum heading into 2023.
Energy is by far the best-performing S&P 500 sector this year, up well over 50%. That's the best year on record in data going back to 1989 and surpasses the almost 48% gain in 2021. Tech-related sectors (communication services, consumer discretionary, real estate and info tech) are three of the four worst-performing this year. The ratio between energy and info tech in November hit the highest since July 2019.
Energy stocks have benefited from strong earnings growth, robust shareholder returns and optimism about China reopening. The sector was also the best-performer in 2021 as crude prices surged. In 2023, energy could get a lift from higher dividends, which will look more attractive in the event of a recession. Buy recommendations for the group make up 61% of analysts' projections, compared with 55% for the broad equities benchmark, data compiled by Bloomberg show.
For tech, the outlook is muted. Semiconductors are sinking today after Micron's demand warning. Surging bond yields made highly-valued tech stocks look less attractive and Nasdaq 100 forward earnings have fallen more than the S&P 500.
Info tech is still the biggest S&P 500 sector by far at ~25.8% versus ~29.2% at the end of 2021. Energy has risen to ~5.1% from ~2.7%.
Loading…