Pornhub Users In Louisiana Now Required To Submit Driver's License Before Accessing Site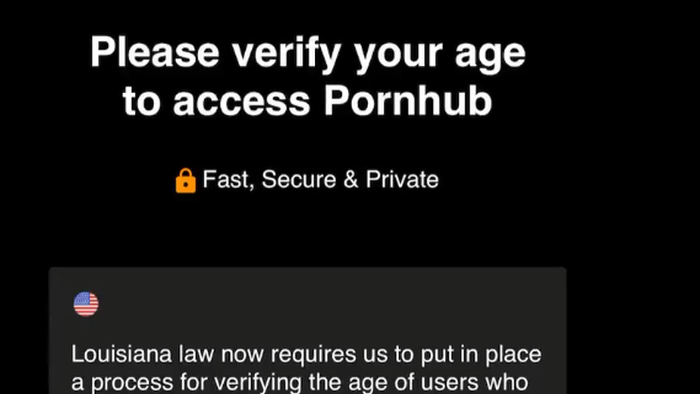 Watching porn on websites in the new year now requires residents of Louisiana to submit their driver's license or a government-issued ID for age verification purposes, according to Mashable. 
On Sunday, residents had to verify they were over 18 before accessing adult websites like Pornhub. To do this, they could submit government-issued IDs or public or private records, such as employment or education documents. The bill is known as Act 440 and was introduced by Republican state legislator Laurie Schlegel in February and then signed into law by Gov. John Bel Edwards in June.
Websites with one-third of pornographic material or more will be required to provide a gate and ask users to verify their age.
"Pornography is destroying our children and they're getting unlimited access to it on the internet and so if the pornography companies aren't going to be responsible, I thought we need to go ahead and hold them accountable," Schlegel told New Orleans-based FOX8Live. 
Pornographic websites will ensure age verification for all users in Louisiana. Schlegel said there would be legal consequences for websites that fail to follow the new law. This move is to hold porno companies accountable for corrupting the youth. 
"Someone could sue on behalf of their child; they can sue if children are getting access to pornography. So, it would be up to the user to sue the company for not verifying age first," continued Schlegel.
She was adamant that overconsumption of porn is linked to depression, erectile dysfunction, lack of motivation, and fatigue. She also said this new law is to protect the youth. 
Twitter user Public Defendering recorded the new process. 
Hello from the surveillance state of Louisiana. People in Louisiana have to use their drivers license to go to pornhub. This is truly wild. Under his eye. https://t.co/uji6Jo3Tde pic.twitter.com/pVKEeVcCGw

— Public Defendering (@fodderyfodder) January 2, 2023
Loading…