"Tragic Thursday" – Disruptions Widespread As Rail Strike Hits UK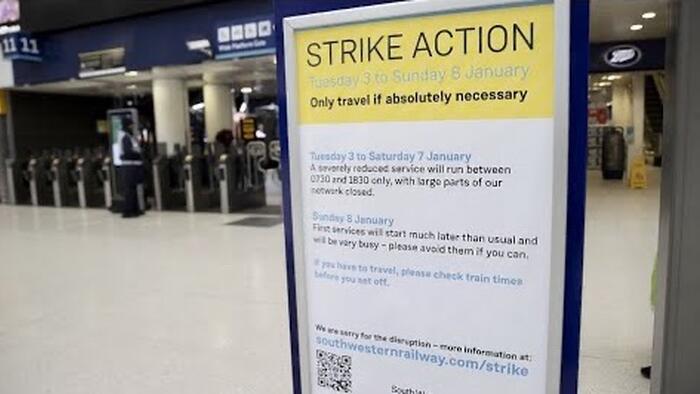 British rail workers started the new year with a week-long strike on Tuesday, disrupting commuters across the UK. By Thursday, the industrial action spread as some of London's largest railway stations were shuttered. 
Train service into London operated by Thameslink, Southern, and Southeastern was halted as train drivers represented by the Aslef union walked out over pay. The labor action comes as RMT, another labor group, held separate strikes. It should be noted that RMT isn't on strike today, but Aslef's industrial action has led to additional disruption of train networks. 
Bloomberg said the latest labor action had been called "Tragic Thursday" by rail bosses because the entire train network will only be able to operate at 20%, likely causing massive disruptions for commuters today. 
The effect is more severe than on the days affected by the RMT's strikes. London Bridge, Victoria and City Thameslink have no services at all. There are no services on the West Coast main line which connects London to Birmingham, Manchester and Glasgow.

Some rail operators are running a heavily reduced service, such as Great Western Rail which is providing one hourly train into Paddington. That is compared with four hourly trains on previous RMT strike days.

Travelers to and from Gatwick airport will have to make their way by coach or car. However, most of the hub's coach services run by National Express Group Plc have already sold out. Neither are there any trains to Luton airport.
Bus services in west and south London are disrupted as a strike by Abellio workers rolls into its second day. –Bloomberg
UK grinds to a halt on worst day of train strikes so far, Rishi Sunak makes five pledges to the public, and electric cars outsell diesel for first time

Get up to speed with the London Rush ⬇️https://t.co/DF3TKmrYr2 pic.twitter.com/XrahXJGCHe

— Bloomberg UK (@BloombergUK) January 5, 2023
Rail strikes have been ongoing for months across the UK as soaring inflation and stagnant wage growth batter the working poor. Labor bosses have been negotiating with rail companies for higher pay, but ongoing labor actions indicate no progress has been made. 
Loading…