January 6: A Day That Will Live In Alchemy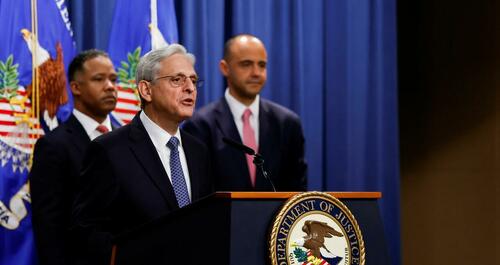 Authored by Julie Kelly via AmGreatness.com,
A few weeks before Christmas, federal authorities arrested a Washington state couple for their participation in the Capitol protest on January 6, 2021.
The FBI investigated Scott and Holly Christensen for more than 14 months; agents interrogated coworkers, scoured social media accounts, reviewed hours of security video from inside the Capitol building and body cam footage from law enforcement, and issued a search warrant to confirm the couple's whereabouts that day. 
"According to records obtained through legal process served on AT&T, cellphones associated with [the Christensens] were identified as having utilized a cell site consistent with providing service to a geographic area that included the interior of the United States Capitol building, on January 6, 2021, from 2:43 EST to 3:51 EST. AT&T records confirm that both devices belong to Scott CHRISTENSEN of Puyallup, Washington," an unidentified agent on the FBI's Joint Terrorism Task Force wrote in a November 2022 criminal complaint.
So, what exactly did these alleged "domestic terrorists" do? They entered the Capitol through open doors as police officers stood by. Carrying no weapons, the couple took photos inside the Rotunda and wandered through some hallways; surveillance video shows Holly Christensen talking to a Capitol police officer. At another point, Scott Christensen chatted with a D.C. Metro police officer, a conversation captured on a body-worn camera. Police led the pair toward an exit door about 45 minutes later without arresting them.
For that uneventful jaunt through a public building that posed a threat to no one, the Christensens will now be destroyed by the Department of Justice, the federal court system, and the news media. Although both were charged with nonviolent misdemeanors—the same four offenses that represent the overwhelming majority of charges—journalists dishonestly portrayed the couple as traitors to their country. "Washington state couple to face Jan. 6 insurrection charges," an Associated Press headline blared on December 12.
Which, of course, is music to the ears of the Biden regime. Two years after the events of January 6, the Justice Department is preparing to accelerate its retaliatory, destructive manhunt for Trump supporters. More than 950 people have been arrested and charged so far, a figure expected to at least double by the time the dust settles. Last year, U.S. Attorney for the District of Columbia Matthew Graves, the Biden appointee handling every January 6 case, hinted the total number of defendants could reach 2,000.
The newly-appointed head of the FBI's Washington, D.C. field office warned this week the agency's work on January 6 cases will continue for "months and years to come." Attorney General Merrick Garland released a statement to commemorate the second anniversary of the "attack on the Capitol" with a similar sentiment. "Our work is far from over," Garland said, boasting how the prosecution "continues to move forward at an unprecedented speed and scale."
And why shouldn't it? After all, 18 GOP senators voted to pass the $1.7 trillion omnibus bill last month, which included a $3.5 billion raise for the Justice Department, millions of which will be spent on hiring more government lawyers to prosecute January 6 cases. The FBI won a $570 million boost, bringing the bureau's total annual budget to more than $11 billion.
Nothing like feeding the wolves eating your herd.
Joe Biden continues to fixate on January 6 in an attempt to brand Trump supporters, or any American who does not blindly embrace the Dear Leader, as "insurrectionists" and "terrorists" endangering the safety of the country. To honor the second anniversary of January 6, Biden will make remarks and hand out Presidential Citizens Medals to individuals who gave televised performances before the January 6 select committee.
The family of Capitol Police Officer Brian Sicknick will receive a posthumous medal for "[losing] his life protecting our representatives." Biden, who has difficulty telling the truth about the circumstances of his own son's death, shamelessly perpetuates the falsehood that Sicknick and several other police officers died as a result of January 6. (In his statement, Garland claimed five police officers died.)
Of course, January 6 propagandists have to lie about what happened to justify comparisons to Pearl Harbor, the Oklahoma City bombing, and 9/11. Their hope is to rally support around the new war on terror, one taking direct aim at Americans on the Right. If Trump supporters are truly America's version of ISIS, as the regime and the news media insist, then no amount of funding is too much and no criminal prosecution is too excessive to defeat the sworn enemy. Any dissent is unpatriotic.
It's a feat of political sorcery—fueled by lies, cover-ups, and careerism, not entirely unlike the first war on terror—to transform an unruly, four-hour protest into an act of domestic terror. American families such as the Christensens are merely collateral damage along the way.
Loading…