The Narrative Is that Two Women Under 30 Committed Fraud without Detection by Sophisticated Wall Street Law Firms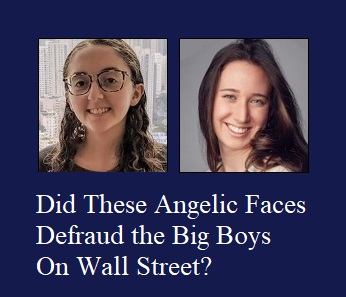 by Pam Martens and Russ Martens, Wall St On Parade:
Women have been demanding equal opportunity on Wall Street for the past 60 years. We're pretty sure that equal opportunity to commit crimes on a par with the big boys on Wall Street is not what they had in mind.
Confronting women on Wall Street today are two especially disheartening cases. In the photo on the left above is Caroline Ellison, who looks more like the wholesome star of a Disney children's flick than a woman who has pled guilty to seven criminal counts for frauds she committed as CEO of Sam Bankman-Fried's hedge fund, Alameda Research.
TRUTH LIVES on at https://sgtreport.tv/
On the right in the photo above is Charlie Javice, founder and former CEO of Frank, a company that was hyped in a JPMorgan Chase press release when it acquired it in September of 2021 for $175 million as "the fastest growing college financial planning platform, to help millions of students and their families navigate their financial journey to college and beyond." Javice joined JPMorgan Chase when it acquired her company and became a Managing Director. The website for the Frank platform has now been shut down and JPMorgan Chase is alleging in a lawsuit against Javice that she created a list of millions of fake users to entice the Wall Street megabank to buy her company.
While Javice is innocent until proven guilty, the lawsuit does include smoking-gun emails between Javice and a professor discussing how best to fake customer information so that it is believable.
In both the Caroline Ellison case and the Charlie Javice case, there are details that bring anguish to the veteran women of Wall Street.
First, both women had their whole careers ahead of them. Ellison is 28 years old. Javice is 30. (Her alleged fraud occurred when she was under 30 in 2021.) Both women have prestigious education credentials. Ellison graduated from Stanford University in 2016 with a Bachelor of Science Degree in Mathematics. Javice indicates on her LinkedIn profile that she attended the Wharton School at the University of Pennsylvania.
The suggestion is that both women were somehow able to outwit two of the most sophisticated Wall Street law firms. Big Law firm, Sullivan & Cromwell, was outside legal counsel to FTX and Alameda. Two of Sullivan & Cromwell's former law partners worked in key legal positions at FTX businesses but failed to notice that Alameda was looting $8 billion from FTX exchange customers, according to regulators.
JPMorgan Chase, which acquired Javice's company, is the largest commercial bank in the United States with more than 5,000 branches across America and is one of the largest global trading houses in the world. It operates in more than 60 countries. It is represented by many of the oldest and largest law firms in the world that are paid extremely well to prevent JPMorgan Chase from being ripped off to the tune of $175 million by a 20-something woman. (Conversely, these law firms are also extremely well paid to defend JPMorgan Chase against its own rap sheet that reads like that of an organized crime syndicate.)
On the day that JPMorgan Chase acquired Javice's company in 2021, she posted a statement on her LinkedIn page which thanked Sidley Austin law partner Idan Netser "and his team at Sidley" for being "amazing advisors in this process." According to the National Law Journal's 2022 ranking of law firms, Sidley Austin employees 1,893 attorneys.
Javice adds this in her 2021 statement at LinkedIn: "In just around four years, Frank has become the leading and fastest growing college financial planning platform serving over 5 million students at over 6,000 colleges. From day one, our approach has been clear: students always come first."
It took 30 seconds on Google to learn that 6,000 colleges might be a tad of an exaggeration. According to CurrentSchoolNews.com, there are only 5,300 colleges and universities in the United States — and that includes beauty schools. So both the legions of in-house lawyers at JPMorgan Chase and the lawyers at Sidley Austin missed the smoking gun that Javice was claiming to have captured 113 percent of her targeted institutions.
Read More @ WallStOnParade.com