"I Would Not Buy A Tesla Again": U.S. Tesla Owners Fume About Recent Price Cuts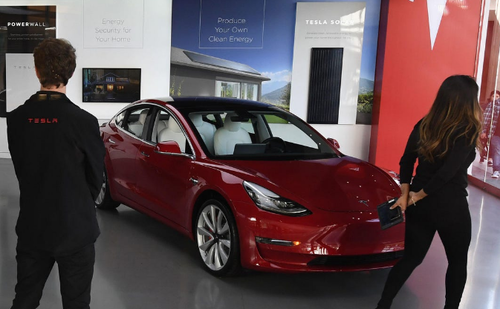 It was just a couple of days ago we first noted that Tesla was getting blowback in China, where it has slashed prices in order to try and spur demand for its vehicles. Over the last few days, that anger towards the company appears to be ramping up in the U.S., as well, after Tesla also slashed prices domestically.
Such was the takeaway from a new Bloomberg article that spoke to several Tesla owners and "fans", who didn't seem happy about the company's recent move to slash prices.
One 32 year old Tesla "fan girl" named Marianne Simmons told Bloomberg: "I feel like I got duped. I feel like I got taken advantage of as a consumer. Right off the bat, I'm out $13,306. It's such a large reduction that it's going to affect a lot of people who just bought a vehicle."
She had just shelled out $77,000 for a white Model Y. "I would not buy a Tesla again. That's saying a lot for me. I was a huge Tesla fan girl. I'd go with a competitor like Lucid or Rivian," she added.
Ivan Drury, director of insights for research website Edmunds.com told Bloomberg: "For any existing owner it's a kick to the teeth. Anyone who bought a Tesla recently will feel an immediate impact and wish they leased it." 
Another new Tesla owner, Andrew Checketts, from Santa Barbara, California, told Bloomberg that Tesla was "hounding" him about discounts at the time he made his purchase – but if he had waited, he could have saved far more money. He said: "I have solar scheduled to be installed soon. Really having a hard time giving Tesla any more of my money and can't even look at the car this morning."
Owner Jack Bradham, who purchased a black Model Y long-range edition in December, is irked that the vehicle got a $12,000 discount right after he purchased it. He said customer service from Tesla has been non-existent: "There's no one to contact. I called and tweeted to them, no response."
The price drops are hitting the resale value of Teslas also. Austin Flack, another owner, tried to list his 2018 Model 3 with the Full Self-Driving Beta software package for $51,000 last month. He has since reduced the price to $36,000 and fears he'll have to try and cut it to $30,000. 
As the report notes, the base price of the Model Y is down an astonishing 20% to start the year, with the vehicle now listed at $53,000. The Model S plaid is down 14%. 
The situation in the U.S. echoes that of China, where customers stormed  showrooms to protest price cuts. 
Customers were demanding rebates and credits, claiming that they had overpaid for the same cars that weren't marked down at the time they were purchased, a new report from Reuters says. Prices of Tesla vehicles in China are now between 13% and 24% lower than they were in September. 
Loading…