Republican Sen. Thom Tillis on Amnesty: CEOs Need 'Affordable' Migrant Labor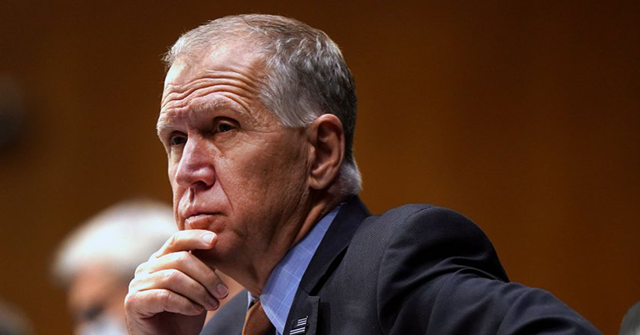 Politicians try to hide the pocketbook politics of migration — but Sen. Kyrsten Sinema (I-AZ) accidentally let the cat out of the bag during a staged PR event when she asked a plain-spoken mayor what he wants from a 2023 migration bill.
"We need cheap labor," responded Gerardo Anaya, the mayor of Somerton, an Arizona agricultural town between Yuma and the Mexican border.
Sen. Thom Tillis (R-NC) then rescued Sinema's PR event by rebuking the mayor's frank admission:
I wouldn't call it cheap labor. I would call it affordable labor because one thing that you all know, the lettuce can grow on either side of the border. And if we don't come up with solutions for a sustainable workforce, we're going to be importing [lettuce].
Sinema is pushing for a more-migration and amnesty bill as part of her 2024 election campaign.
Her push is winning support from Arizona businesses, plus a lot of favorable publicity from the establishment media.
Sinema is backed by a group of seven friendly Republican and Democrat senators: Sens. Tillis, John Cornyn (R-TX), Mark Kelly (D-AZ), Jerry Moran (R-KS), James Lankford (R-OK), Chris Coons (D-DE), and Chris Murphy (D-CT).
But there is little chance that her pre-election project will be converted into law.
The core problem with any effort to pass an immigration expansion is that business groups want it because it cuts employees' wages.
Many polls show that Americans increasingly oppose labor migration — especially when companies hire migrants and visa-workers instead of hiring Americans. For example, a November poll by pro-migration advocates showed that only 28 percent of registered voters believe immigration has been positive for their local economy, and only 38 percent say immigration is good for the United States. The August 12-15 survey of 2,025 registered voters admitted that only 15 percent of voters had a "very positive" view of national migration, and that 20 percent said they have a "very negative" view.
In prior years, Sinema's group "might have actually gotten away with that little Sellout Safari of theirs, but now they can't because it has been exposed all over social media," said Kevin Lynn, the founder of the U.S. Tech Workers advocacy group.
Business groups — and their university and political allies — have long hid the link between migration and voters' wages.
Prior to 2016, many advocates for more migration simply denied that the government's pro-migration policies were reducing voters' wages. But in 2019 and 2020, those advocates flip-flopped to blame rising wages on President Donald Trump's low-immigration policy.
Since 2021, business lobbyists have doubled down on their Trump-era flip-flop by saying President Joe Biden should reduce inflation by using migrants to cut Americans wages.
The wage-cut policy has been quietly implemented by Biden's welcome of at least 2 million southern migrants in 2022.
"Look at the Biden cabinet … they believe that one of the ways to curb inflation is to increase immigration because they know it has a deflationary impact on wages," said Lynn. He continued:
They think the way to do that is to bring in more immigrants to displace more Americans. But the whole America First movement is the result of the wage-earning classes getting screwed …. Republican politicians that are not America First are going to become extinct.
Unfortunately for Biden, the imported workers are also consumers and renters — so they have also worsened inflation by boosting demand for housing and used autos.
Arizona's Lettuce Politics
In Arizona, farm companies use Yuma's soil, sunshine, and many low-wage stoop-labor workers that commute from Mexico to provide a huge share of the winter lettuce throughout the United States:
Those circumstances are great for Yuma's farm companies and real-estate owners.
But the inflow of daily migrants from Mexico is not good for ordinary Americans, according to data in a May 2021 report by the Bureau of Labor Statistics:
Workers in the Yuma, AZ Metropolitan Statistical Area had an average (mean) hourly wage of $22.18 in May 2021, 21 percent below the nationwide average of $28.01 … wages in the local area were lower than their respective national averages in 19 of the 22 major occupational groups, including legal, management, and educational instruction and library.
Nonetheless, Yuma farmers also face intense pressure to further cut their costs.
They are pressured by inflation, Wall Street's demands, and rising competition from companies that grow lettuce in high-tech, hygienic, energy-intensive greenhouses close to northern consumers, such as Little Leaf Farms in the New England region:
The greenhouse technology — dubbed "vertical farms" — has been globally pioneered by higher-wage European companies, including this Finnish firm:
And this Dutch firm:
In the United States, companies have long favored migrant labor. It is cheap and disposable, so it reduces economic risks for farms as prices fluctuate from year to year.
But when Congress shrinks the supply of foreign labor, companies are forced to take the economic risk of investing in machines that raise their employees' productivity.
Those investments create costs and short-term risks for CEOs — but in the long term, they raise Americans' wages, the nation's wealth, civic harmony, and the popularity of incumbent politicians.
For example, Congress sharply reduced immigration in 1924, and forced a decades-long wave of innovation that reduced stoop-labor farming and pickaxe mining, according to a new study in the American Economic Journal:
In rural areas, the loss of immigrant workers … encouraged landowners to invest in more farm capital [machines] and shift away from labor-intensive crops … Mining was highly dependent on immigrant labor at the time and did not have adequate forms of substitutable capital until the 1940s.
The article was written by pro-migration advocates Ran Abramitzky and Leah Boustan, who had early described the massive economic and civic gains for southern states enabled by the congressional cut-off of cheap immigrant labor.
That cut-off lasted until 1965 when business and advocacy groups allied to restart the inflow of foreign workers and consumers. Their campaign was based on the Cold War narrative that the United States is a "Nation of Immigrants."
In 1990, Congress doubled the inflow — and effectively launched the economic policy of Extraction Migration that pulls workers, consumers, and renters from poor countries to the United States for use by U.S. business and investors.
The economic policy has been great for investors. It has successfully forced down Americans' wages and also boosted rents and housing prices. The inflow has also pushed many native-born Americans out of careers in a wide variety of business sectors, reduced native-born Americans' political clout, and contributed to the rising death rate of poor Americans.
The colonization-like policy has also killed many thousands of unrecognized migrants, including many on the taxpayer-funded jungle trail through the Darien Gap in Panama.
Tillis and Cheap Labor
Tillis is a persistent and enthusiastic advocate for more migration to fill blue-collar and white-collar jobs.
So he tried to shift the focus of Sinema's PR event away from "cheap labor," saying, "I would call it affordable labor."
He then argued that "affordable" farm labor is a national economic issue, as he admitted a "need to educate" Republicans about business' desire for a stable supply of imported workers:
I, for one, do not think the argument of securing the border should be particularly partisan. That's about educating our voters on why we need to do that, so law enforcement can have a better chance at stabilizing [emphasis added] crossings, going forward.

Then we have to have a broader discussion about guest worker programs, work visas, a number of other things that we need if we want to continue to have the [labor] resources we need in America. I wouldn't call it cheap labor. I would call it affordable labor.
Tillis showed he is eager to trade in massive amnesty — including voting rights for migrants — to Democrats in exchange for a stable and orderly inflow of more workers to his business allies:
The first part of getting order to this process is getting the border secure, allowing Border Patrol to have the time necessary to process those who are trying to seek entry into the United States. That's number one.

We have to have a discussion about the disposition of, let's say the DACA population or the dreamer [illegal migrant] population. There are a lot of people that think that this is about amnesty for millions and millions — 15 million are some of the estimates I've heard. There is a minor portion of that population that Republicans have to address as a part of any balanced deal.
But Tillis knows that Americans — especially Republican voters — are lopsidedly opposed to labor migration. So he urged his colleagues to first lobby other legislators for more migration:
What we need to do is open the aperture and educate. We need to educate the public. But we also have to educate our members. And any sort of a compromise that comes together has to have several facets to it. That's why it's so difficult. That's why it's been difficult to achieve in the past.

We also have to work very closely with our colleagues in the House. There was an election a little while ago that changed the leadership in the House. We've got to sit down and work, educate, negotiate, and try and come up with something that can be both bipartisan … Just because it hasn't happened in the past …  doesn't mean it can't happen in the future. We just have to do the work.
Two of the Republican senators — Lankford and Moran — skipped the Sinema PR event where the Somerton mayor declared, "We need cheap labor."
Cornyn went to Sinema's PR event, but zig-zagged between support and skepticism while dodging the voters' pocketbook concerns.
"This is the single most difficult issue, perhaps other than the national debt, that we have failed to deal with," Cornyn said:
There have been efforts before to deal with it. We've never seen the influx of humanity like we're seeing now across the border. We've never seen the number of drug-overdose deaths that we've seen this last year. How much longer are we going to put up with this?

Those of us who run for office, we're accountable to our voters. We understand that there's a lot of confusion. Maybe part of our job is to help educate our voters about what we're dealing with, how it's not the same sort of immigration that you've seen historically from Mexico, let's say or Central America, the Northern Triangle. So that's on us to try to do our job.

But we do that through the media, through events like this where we all get a little smarter, getting a little bit better educated, and I think have a different conversation. But then ultimately, we have to make a decision. And it's not going to please everybody. But we will do our best.
The Sinema immigration project may help her win reelection. But even Tillis recognizes that Sinema's project likely will not produce any legislation, according to a pro-Tillis article in the January 16 Washington Post:
With the precision of a seasoned vote counter, he quickly ticked off the obstacles standing in the way: a House Republican majority who would want even more border security money in the bill to even consider it, and a Senate controlled by Democrats who would demand in turn that a larger population of immigrants be eligible for citizenship, which would poison the effort for Republicans.
"All of those things lead me to believe that it's highly unlikely that in the next three or four years that we will get anything done," he said.
Lynn also dismissed Sinema's campaign project.
"It will be just more of the same noise that we've been hearing … [because] they can't operate in the dark anymore," he said.
"Things like this simply aren't going to make it to the [Senate] floor going forward," he said. "That's not going to stop them from trying."
But whatever happens, he added, "the politicians do not want to talk about the money."