Paris: Churches Targetted By Arson Attacks Three Times Within Days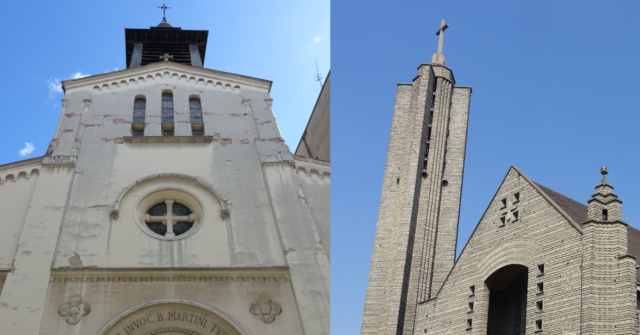 Two churches in the city of Paris have been subjected to arson attacks over the period of several days as police have yet to arrest any suspects linked to the fires.
The fires took place over a period of several days from January 17th to the 22nd, with the Notre-Dame-de-Fatima Roman Catholic church in Paris' 19th arrondissement (district) attacked on the 17th and then attacked again on the 22nd.
According to investigators, an unknown individual had sprayed some kind of flammable liquid on the church door and used newspaper to light the fire but noted that no damage had been done to the interior of the church as a result of the alleged attack, Le Parisien reports.
The church of Saint-Martin-des-Champs in the 10th arrondissement was also targetted by an alleged arsonist as pieces of wood were set on fire by the main door of the church, with the fire spreading inside, causing damage.
French Court Tries Repeat Criminal over Burning of Four Churcheshttps://t.co/91NcInjBq8

— Breitbart London (@BreitbartLondon) January 18, 2022
Father Stéphane-Paul Bentz explained that the fire was caught early by a group of students living at the church. He said: "This fire was quickly contained thanks to the responsiveness of the students housed in the church."
"Video surveillance attests that a man came shortly before 5 am and started [the fire] using fuel brought purposely, probably petrol," he added.
The Saint-Martin-des-Champs was originally constructed in 1856 as a temporary church and much of the structure is wooden, meaning the fire could have destroyed the entire church if it had been allowed to spread.
So far, no suspects have been arrested for any of the three incidents, with Paris deputy mayor Emmanuel Grégoire noting that they may have been caused by a single person as the methods used to start the fires were different at both churches. Because Paris's administrative districts are numbered in a clockwise spiral around the city, while well spread in numeral, the 10th and 19th arrondissements are in fact adjacent in Paris's north-east.
The alleged arson attacks come just weeks after another church was attacked in Paris in December. The 17th-century Eglise Saint Roch was vandalised with anarchist and far-leftist slogans, with some connecting it to a demonstration by a former member of Marine Le Pen's National Rally (RN).
Arson attacks on Catholic churches in France have not been uncommon in recent years. Last year, a 36-year-old man was put on trial for setting four churches on fire in Boulogne and Portel in 2021, while in November of last year, a suspicious fire broke out at the cathedral of Saint-Pol-de-Léon in the Brittany region.
African Migrant Arrested After Fire Guts Nantes Cathedral https://t.co/2DlEFky3da

— Breitbart London (@BreitbartLondon) July 19, 2020
Follow Chris Tomlinson on Twitter at @TomlinsonCJ or email at ctomlinson(at)breitbart.com.