Tyre Nichols Memorial Fund Raises over $800K in One Day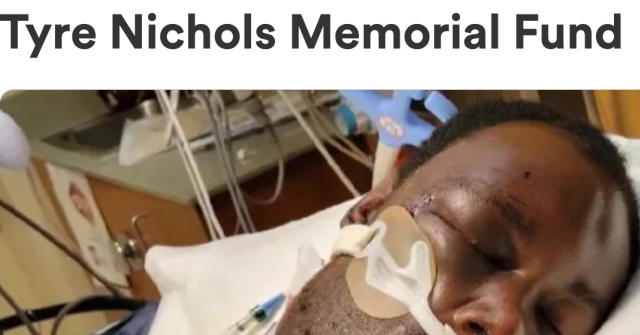 A GoFundMe page created by Tyre Nichols' mother raised over $800,000 in one day thanks to donors.
RowVaughn Wells said her son was pulled over for suspected "reckless driving" on January 7 but "There is no evidence to substantiate this claim."
She continued:
Further, police claim that my son left the scene on foot. It turns out that he was just trying to get to my house for safety — which was only a few blocks away from where the incident happened. My baby was just trying to make it home to be safe in my arms. Tyre was unarmed, nonthreatening, and respectful to police during the entire encounter!

During my son's interaction with the police, they beat him beyond recognition until he became unconscious. He was then taken to a hospital and immediately placed on life support. He died 3 days later, but I believe that my son died on January 7th, the moment those 5 Black Memphis Police Officers pulled Tyre over and beat him to death for no good reason.
As of Saturday evening, the page had raised $852,504 of its $1,000,000 goal.
On Friday, Memphis officials released video of the traffic stop that resulted in Nichols' death on January 10, according to Breitbart News.
"The Memphis Police Department released four videos, three of which were from a police officer's body camera and one was from a street pole camera and contains no audio," the article said.
At one point, an officer can be heard telling Nichols to get on the ground, to which he replies, "Alright, okay, alright."
Officers later used a taser on the young man, who then ran from them. Another clip shows officers allegedly punching and kicking him, per Fox 35:
The five officers were charged with second-degree murder, among other charges, and were identified as Demetrius Haley, Tadarrius Bean, Emmitt Martin III, Desmond Mills, and Justin Smith, according to Breitbart News.
"On Thursday, a grand jury returned indictments against all five officers for charges that include kidnapping, official misconduct, official oppression, and second-degree murder," the outlet said, adding, "The grand jury indictment comes after the Memphis Police Department fired each officer last week."
Meanwhile, Wells said she and her husband are hardworking, loving parents, and the fundraiser will help cover costs for mental health services and time off from work to grieve.
"Additionally, we want to build a memorial skate park for Tyre, in honor of his love for skating and sunsets," she concluded.