Missing Radioactive Capsule In Western Australia Found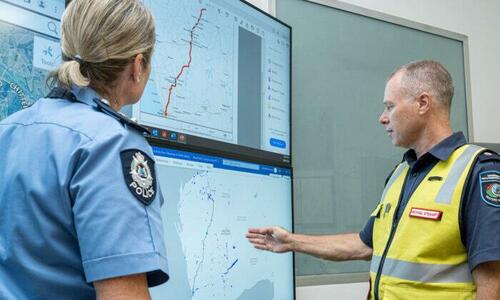 Authored by Nina Nguyen via The Epoch Times,
Australian authorities have found and secured a radioactive capsule missing in the outback of Western Australia (WA) after a frantic one-week hunt.
The capsule, which is filled with Caesium-147 which emits radiation equal to 10 X-rays per hour, was located two meters off the Great Northern Highway near Newman on Wednesday morning local time.
"I do want to emphasize this is an extraordinary result," WA Emergency Services Minister Stephen Dawson said at a press conference on Wednesday afternoon.

"The search crews have quite literally found the needle in the haystack."
A crew from Australian Nuclear Science and Technology Organisation and the Department of Fire and Emergency Services found the silver-colored capsule using radiation survey meters to detect the gamma rays and radiation levels to locate the capsule.
It has been placed in a lead container and is being transported to Newman for secure storage overnight before being taken to a WA Health Facility in Perth on Thursday.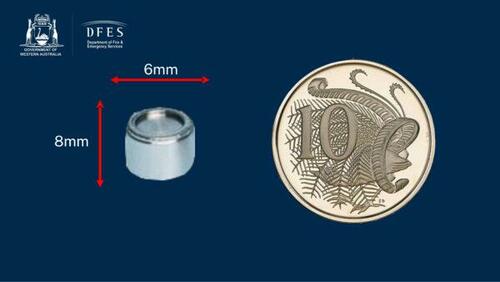 A supplied image obtained on Jan. 27, 2023, of a small round and silver capsule containing radioactive Caesium-137 that went missing in transportation between a mine site north of Newman and the north-eastern parts of Perth between Jan. 10-16. (AAP Image/Supplied by Department of Fire and Emergency Services WA)
The device has been put in a 20-meter "hot zone" to make sure the public is not in contact with the radiation from the substance.
"This fantastic result in just seven days in the face of seemingly insurmountable odds is a testament to the close collaboration of all the agencies who came together to ensure the safety of WA," said the Department of Fire and Emergency Services (DFES) WA, the lead agency in charge of the search.

"Thank you to the community for heeding the safety advice, sending suggestions and reporting any info they thought may aid the search efforts."
The potentially dangerous radioactive capsule, just 6mm wide and 8mm long, is believed to have fallen from a truck that travelled from the Rio Tinto mine in WA north to a storage facility in Perth, an 870-mile journey.
"It is extremely rare for a source to be lost," Western Australia Chief Health Officer Andrew Robertson said in a statement. 
Potentially Harmful Tiny Capsule
Authorities had warned the public to stay at least five meters away from the silver capsule as exposure could cause radiation burns or radiation sickness, though experts have said driving past the capsule would be relatively low risk, akin to taking an X-ray.
"It emits both beta and gamma rays, so if you have contact or close to you, you could either end up with skin damage, including skin burns … and if you have it long near you it could cause acute radiation sickness," Robertson said.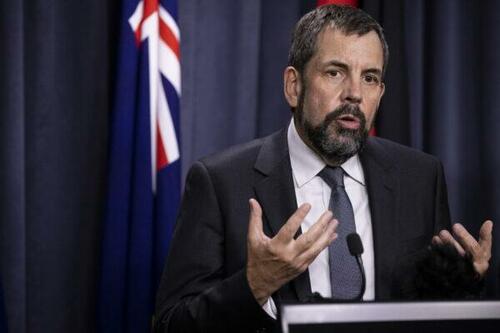 Western Australian Chief Health Officer Andrew Robertson at a press conference at Dumas House in Perth, Australia, on Feb. 4, 2021. (Matt Jelonek/Getty Images)
"Our concern is someone will pick it up, not knowing what it is, think this is something interesting [and] keep it … not knowing what they are actually dealing with."
The capsule cannot be weaponized or broken to spread the radioactive material, however, it can cause cancer, Robertson warned.
Rio Tinto's Statement
The capsule left the Rio Tinto's mine site on Jan. 12 and was reported to be missing on Jan. 25. The gauge was found broken apart and missing a screw and a bolt, which are believed to have come loose due to vibrations from the truck. Inspectors believed the capsule then fell through a hole and then out of the truck.
The public received an alert about the missing capsule about two days later. The package was in accordance with radiation safety regulations.
Rio Tinto said it recognized the disappearance is "clearly very concerning" and apologized for the alarm it has caused in the Western Australian community.
"Rio Tinto engaged a third-party contractor, with appropriate expertise and certification, to safely package the device in preparation for transport off-site ahead of receipt at their facility in Perth," Simon Trott, Rio Tinto's iron ore division chief, said in a statement on Monday.
Loading…