Philippines Grants U.S. More Access to Military Bases as China Tensions Mount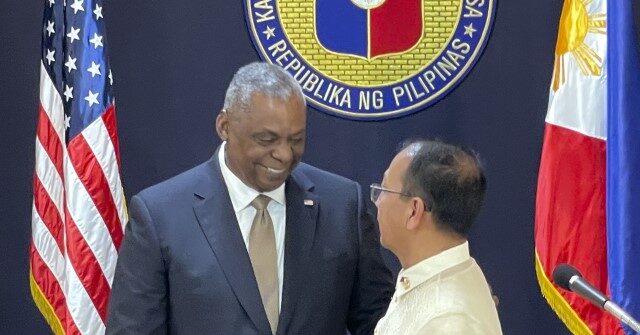 Philippine Defense Secretary Carlito Galvez announced on Thursday that American forces would be granted more extensive access to Philippine military bases, adding four sites to the five already available to the United States for training, equipment storage, and infrastructure upgrades.
Galvez made the announcement in a joint press conference with visiting U.S. Defense Secretary Lloyd Austin. The two did not specify the four new facilities that would be opened to the U.S. military, but Galvez noted the United States has requested access to the northwestern island of Luzon and the southwestern island of Palawan.
Luzon is the Philippine territory closest to Taiwan, while Palawan is closest to the Spratly Islands, a territory China has been making aggressive moves to seize despite competing claims from the Philippines, Taiwan, Vietnam, Malaysia, and Brunei.
"Our alliance makes both of our democracies more secure and helps uphold a free and open Indo-Pacific. We discussed concrete actions to address destabilizing activities in the waters surrounding the Philippines, including the West Philippine Sea, and we remain committed to strengthening our mutual capacities to resist armed attack," Austin said at the press conference.
The West Philippine Sea is Manila's preferred name for the region of the South China Sea that falls within the Philippines' exclusive economic zone. China's incursions into this region are growing steadily more aggressive, including a tactic known as "swarming," in which large numbers of paramilitary Chinese "fishing boats" overwhelm fishing grounds to drive Filipinos away.
"This is part of our effort to modernize our alliance and these efforts are especially important as the People's Republic of China continues to advance its illegitimate claims in the West Philippine Sea," Austin said at the press conference.
Austin stressed that U.S. forces would not establish a permanent presence at the Philippine bases, while Galvez said further consultations with local officials were needed to determine exactly what the United States will do at each location.
Austin announced that the United States was prepared to spend an additional $82 million developing infrastructure at the five sites where American personnel are already present. 
The United States had major permanent Navy and Air Force bases in the Philippines until 1992, when the Philippine Senate decided not to extend their leases for another decade. The Subic Bay naval base played a major role in Operation Desert Storm.
Philippine nationalists detested the American bases, blaming them for everything from environmental degradation to crime and prostitution, although the Filipinos who actually lived near them mourned the United States departure. Several dozen protesters assembled outside the military headquarters where Galvez and Austin held their press conference to chant anti-American slogans and call for the expulsion of all U.S. military personnel.
The Philippine constitution forbids the establishment of permanent foreign military bases on local soil, but the 2014 Enhanced Defense Cooperation Agreement (EDCA) allows nominally temporary U.S. access to Philippine bases for activities like training and joint military exercises.
Current Philippine President Ferdinand Marcos, Jr., appears significantly more eager to invoke the EDCA than his predecessor Rodrigo Duterte, who attempted to cultivate closer relations with China and found himself getting slapped around by Beijing for his troubles.
Marcos, Jr., who was elected last May, has already met twice with President Joe Biden and once with Vice President Kamala Harris.
"I have always said that it seems to me that the future of the Philippines and for that matter the Asia-Pacific will always have to involve the United States simply because those partnerships are so strong," he said after meeting with Austin.
The Chinese Communist government erupted in fury at the announcement of a larger American presence in the Philippines.
"The U.S. side, out of selfish interests, holds on to the zero-sum mentality and keeps strengthening military deployment in the Asia-Pacific. This would escalate tensions and endanger peace and stability in the region. Regional countries need to remain vigilant and avoid being coerced or used by the U.S.," railed Chinese Foreign Ministry spokeswoman Mao Ning.
China is, of course, the party actually "strengthening military deployment" in a blatant escalation of regional tensions. In December, Western officials noted China is frantically building up small land features in the Spratly archipelago and smothering them with weapons, ranging from missile bases to runways that can accommodate military aircraft.