Turkey Can Forget About Getting F-16s If Sweden, Finland NATO Bids Blocked: Senators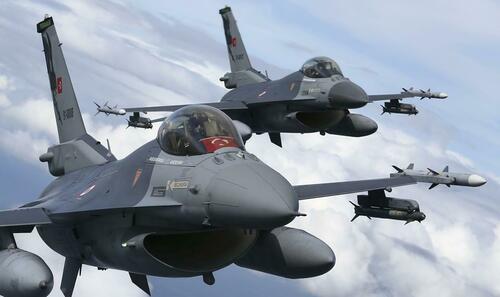 The United States is now threatening Turkey with holding more American-made fighter jets captive, this time over the Erdogan government's refusal to allow Sweden into NATO.
Turkey starting in 2021 issued a formal request purchase 40 F-16 jets and about 80 modernization kits from the US, but a group of over two dozen US senators has said they are ready to block the sale if Turkey doesn't ratify Sweden and Finland's NATO accession protocols. 
"Congress cannot consider future support for Türkiye, including the sale of F-16 fighter jets, until Türkiye completes ratification of the accession protocols," the senators, led by Jeanne Shaheen (D-N.H.) and Thom Tillis (R-N.C.), wrote in a letter to the president Thursday.
"Failure to ratify the protocols or present a timeline for ratification threatens the Alliance's unity at a key moment in history, as Russia continues its unprovoked invasion of Ukraine," the lawmakers stressed.
The White House appears favorable to the Congressional members' stance regarding getting tougher on Turkey while Ankara blocks Sweden's NATO membership: 
"We have made the same point to our Turkish allies … that we need this Congress's support moving forward for the security enhancements that we think that they need, as allies, F16s, some of them are old, but that this Congress is likely to look far more favorably on that after ratification," [Victoria] Nuland said, urging senators to "keep making your points and we will too."
But Turkey has never been easily pressured by Washington – and this is perhaps given the Turkish military remains the second largest in NATO, and the fact that Turkey plays host to American military bases.
With the F-16 hold-up now having dragged on a couple of years, Turkey has long flirted with the idea of acquiring Russian-made Su-35s and Su-57 fighter jets, causing alarm among NATO allies. Turkey has argued it's a problem of Washington's own making, given the 2019 decision to boot Turkey from the Lockheed F-35 program.
Lately, Erdogan has said Turkey looks favorably on Finland joining the alliance, while at the same time suspending accession talks with Swedish officials, especially after last month's Quran-burning incident in front of the Turkish embassy in Stockholm.
Loading…