Gavin Newsom's Wife Earned $1.4 Million Charging Schools to Screen Her Documentaries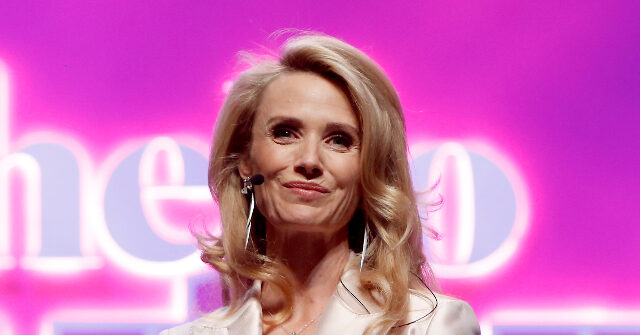 Jennifer Siebold Newsom, who boasts a net worth of $18 to $22 million in unison with her husband, California Gov. Gavin Newsom (D), earned roughly $1.4 million charging public schools around the country to screen her documentaries.
The watchdog group Open the Books reported on their findings, which showed Newsom and her nonprofit, The Representation Project, raised up to $1,483,001 in film licensing fees since 2012.
Per Fox News:
Siebel Newsom's non-profit released four films, for which she is credited as a writer and director, advocating for "gender justice." Siebel Newsom's "gender identity" films are produced through her for-profit operation, Girls Club Entertainment, which is then licensed by the nonprofit The Representation Project, to public schools. The Representation Project claims that they fight "sexism through films education, research and activism."
The documentaries screened included such woke titles as Miss Representation, The Mask You Live In, The Great American Lie, and Fair Play. All titles were licensed to public schools in all 50 states and Gov. Gavin Newsom, a prospective presidential candidate, appeared in at least two films that were screened. Open The Books said that the documentaries were licensed to "individuals, corporations, and schools, and came with their own lesson plans."
Roughly 2.6 million students viewed the films in 5,000 schools, which spent up to $49-$599 to screen the films.
"According to The Representation Project's Impact Report (2011-2021), the organization's film curricula are being used in over 5,000 schools in all fifty states. The Representation Project claims over 11,200 copies of the curricula have been distributed, reaching more than 2.6 million students," said Open The Books.
"Tax records show that since 2012 the nonprofit has generated $1,483,001 in film screening revenue, although it is unclear how much money came from schools versus other sources," it added.
The content of the films screened was another matter, according to the nonprofit. Per the report:
Newsom's film The Mask You Live In features the website addresses of porn sites including Porn Hub, MassiveCams, BDSM.XXX, and Brazzers.com. The pornographic images displayed in the film are tagged with descriptions such as "domination," "face fuck," "kinky couples," and "…dirty brunettes."

Newsom included images of naked or mostly naked women being slapped, handcuffed, and brutalized in pornographic videos. The pictures are graphic even when blurred. Screenshots of those scenes can be found HERE (VIEWER DISCRETION IS ADVISED).

These jarring pictures are displayed with their corresponding porn website addresses – providing a roadmap for future exploration. The film seems to justify their harmful content by saying that "34% of youth online receive UNWANTED PORNOGRAPHIC EXPOSURE."
Open The Books said that neither Jennifer Siebold Newsom nor Gavin Newsom issued a comment on the matter.