Daines: 'A Circus Clown Knows How to Better Handle a Balloon' than Joe Biden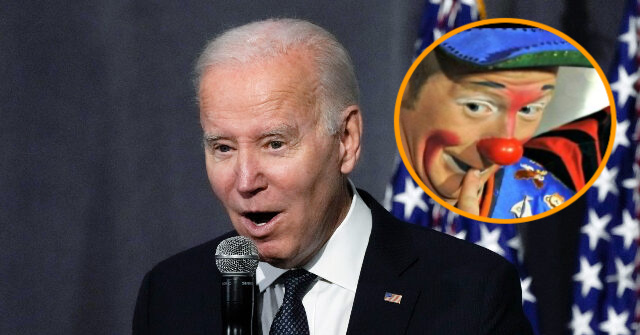 Sen. Steve Daines (R-MT) criticized President Joe Biden's handling of the Chinese spy balloon that recently flew over the country, telling Breitbart News  "A circus clown knows how to better handle a balloon than the White House."
LISTEN:
Breitbart News Saturday host Matthew Boyle opened the interview by asking Daines for his opinion on the Chinese spy balloon that spent multiple days flying across the continental U.S. before U.S. officials shot it down on Saturday.
Daines considers the Chinese spy balloon, and Biden's response to it, a "complete embarrassment to the United States of America."
Daines warned that as Biden "continues to demonstrate weakness" on the world stage, he will only embolden our adversaries.
"There's a reason why Vladimir Putin went into Ukraine. Because he knew Biden's weak. There's a reason the Chinese continue to test the Taiwan Strait. Because they know Biden is weak," Daines said. "There's a reason they launched this spy balloon and just let it hover over America, because they knew Biden is weak."
The Montana senator pointed out that as the spy balloon traveled over his home state, it was also "hovering over our intercontinental ballistic missiles" stationed at Malmstrom Air Force Base.
"Malmstrom Air Force Base is in Great Falls, Montana. It is the home to about 145 to 150 intercontinental ballistic missiles," Daines explained. "Any one of those has forces that are weapons of mass destruction with incredible precision. In fact, the motto of that air force base was 'scaring the hell out of America's enemies since 1962.'"
Daines said that by allowing the spy balloon to hover over our military bases, Biden sent "a message to Chinese that we're weak."
"This was really more of a trial balloon, perhaps they call it a spy balloon. The Chinese were testing our forge, and we flunked the test," Daines said.
Daines highlighted reports that the White House knew about the spy balloon for "several days," and suggested Biden failed to act because he "didn't want to upset Secretary Blinken's trip to Beijing."
"So it's outrageous. And I will tell you this, a circus clown knows how to better handle a balloon than the White House," Daines said.
After Boyle noted that the spy balloon could be viewed as "a giant advertisement for the Chinese Communist Party in the sky above America," Daines called it "as much a propaganda moment for the Chinese as it is a spy mission."
Daines refuted the White House's claims that they did not shoot down the spy balloon out of fear for civilian casualties because Montana is a "sparsely populated state" with "wide open, big sky country."
Daines said, "Look, we need to get the White House, maybe a few folks from the Pentagon that have the stars on, let's have them come out to Montana, spend a little time with the senator from Montana, let me show you this state. We are a sparsely populated state. It's wide open, big sky country. We had an excellent shot to take that balloon down and make sure that it landed in a place that would minimize any risk of harm. They know where the prevailing winds were, at the moment, the trajectory of something like that if it were headed toward the ground. But the greatest odds of hitting something would have been perhaps a cow, a prairie dog, or antelope. And so I think that was just an excuse."
"They are more afraid of the Chinese. That was the issue," Daines said. "They weren't afraid of hitting a prairie dog and antelope or a cow because that's that's the worst thing that might have happened."
"Had they taken the shot in Montana, and that's where they should have taken the shot because that's when it first entered U.S. airspace," he added. "That's when it was over our missile silos. That's where you take it down."
Breitbart News Saturday airs on SiriusXM Patriot 125 from 10:00 a.m. to 1:00 p.m. Eastern.
Jordan Dixon-Hamilton is a reporter for Breitbart News. Write to him at jd************@br*******.com or follow him on Twitter.