Transgender Activist Dylan Mulvaney Wears a Dress on Grammy Awards Red Carpet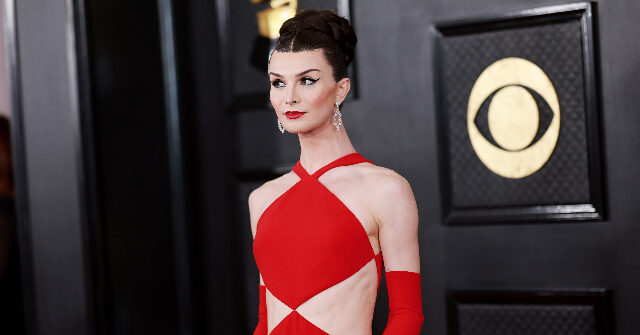 Biological male and radical transgender activist Dylan Mulvaney was seen wearing a dress on the Grammy Awards red carpet on Sunday.
Mulvaney, a gay man who recently began claiming he is a transgender woman, was seen striking several poses on the red carpet at the 2023 Grammy Awards.
Watch Below:
Dylan Mulvaney on the #GRAMMYs red carpet.

— Pop Base (@PopBase) February 5, 2023
"They're inviting anyone nowadays," one Twitter user reacted upon seeing Mulvaney posing as a woman on the red carpet at the Grammy's Sunday night.
As Breitbart News previously reported, Mulvaney and other like-minded radical activists are trying to redefine the civic understanding of women to include surgically intact men who adopt women's clothes, saying, "We're coming up on bikini season and you might see a bulge or two, so normalize the bulge!"
Additionally, Mulvaney's campaign to "normalize the bulge" was boosted when President Joe Biden met with him at the White House, despite the radical transgender activist having dismissed women's female organs as a "Barbie Pocket" or a "Barbie Pouch."
In October, Mulvaney — who is documenting his "transition" on the China-owned app TikTok — sat down for an interview with President Biden on NowThis News.
"Mr. President, this is my 221st day of publicly transitioning," Mulvaney said, to which Biden replied, "God, love it."
"Do you think states should have a right to ban gender-affirming health care?" the transgender activist asked, to which Biden said, "I don't think any state or anybody should have the right to do that, as a moral question and as a legal question. I just think it's wrong."
Watch Below:
You can follow Alana Mastrangelo on Facebook and Twitter at @ARmastrangelo, and on Instagram.