Lufthansa Restores Flights After Severed Internet Cable Paralyzed Operations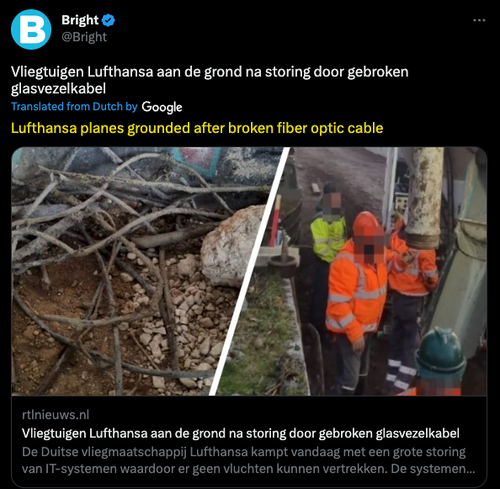 Update (1126ET):
Germany's flagship airline carrier Lufthansa plans to return to normal operations by evening. All flights were grounded early Wednesday when construction crews in Frankfurt severed Deutsche Telekom AG broadband cables. This caused a major IT outage with the airline that affected systems, including check-in operations. 
According to Bloomberg, a spokesperson for the German airline said operations in Frankfurt are normalizing. They expect systems will be entirely restored by early evening. 
*   *   *  
Germany's flagship airline carrier Lufthansa grounded all flights Wednesday because of a severed broadband cable, according to Bloomberg.
A Lufthansa spokesman said the airline's ground systems, including the check-in operations, were affected. Initially, multiple news outlets said German authorities were investigating whether the IT failure was due to a cyberattack. 
📢 Currently, the airlines of the Lufthansa Group are affected by an IT outage. This is causing flight delays and cancellations. We regret the inconvenience this is causing our passengers.

— Lufthansa News (@lufthansaNews) February 15, 2023
But moments ago, Bloomberg, citing a person familiar with the matter, said construction workers in the Frankfurt region cut a Deutsche Telekom broadband cable and caused the widespread IT failure. 
⚠️Important information on flight disruption: As of this morning the airlines of the Lufthansa Group are affected by an IT outage, caused by construction work in the Frankfurt region. Unfortunately, this has led to flight delays and cancellations. We are working on –

— Lufthansa (@lufthansa) February 15, 2023
"Our technicians are working flat out to fix the issue," Peter Kespohl, a spokesman for Deutsche Telekom, said. He outlined there is no timeline for how long the repairs would take. 
Lufthansa's airlines include Austrian Airlines, Brussels Airlines, and Swiss. It also operates low-cost carrier Eurowings as well as other smaller regional airlines. 
Some passengers tweeted videos and photos of them being stranded at German airports. Instead of using computers, passengers had to check in using pen and paper. The airline also was unable to process their luggage digitally. 
IT systems still don't work. "We will manually check all passengers" – airport London #Lufthansa pic.twitter.com/Q2pn1G4i8p

— Karina Moessbauer (@K_Moessbauer) February 15, 2023
#stuttgart #lufthansa #eurowings #standstill System world wide is down. No one is moving. Almost 2 hours now. pic.twitter.com/c2vLe0QToq

— mstutt_vet (@mstuttgart2) February 15, 2023
JUST IN – #Lufthansa is currently facing a global IT system failure.

UPDATE – Lufthansa has now grounded all its flights. German air traffic controllers are now diverting planes away from #FrankfurtAirport.

Feb 15,2023 🛫❌#Frankfurt pic.twitter.com/4qlScCqfiR

— 令和クニちゃん【BREAKING】@MJGA💎 (@ReiwaKuniChan) February 15, 2023
That construction worker is probably going to get fired. 
Loading…