Netanyahu Mulls Meeting Zelensky In Kiev As Pressure On Israel Grows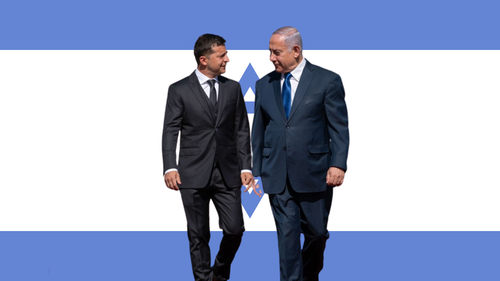 Israeli media reported on Tuesday that Israeli Prime Minister Benjamin Netanyahu's office is considering whether to accept an invitation for a meeting with Ukrainian President Volodymyr Zelensky in Kiev. The proposal for a meeting with Netanyahu came from Israeli Foreign Minister Eli Cohen, who paid a visit to Kiev last week, according to Channel 13. Such a meeting could put Israel in a difficult position, given the current political climate and Israel's sensitivity to Russian concerns, but the Prime Minister's Office is still looking into the request, according to top Israeli officials.
During his recent trip to Israel, US Secretary of State Antony Blinken was given a promise from Netanyahu to review Israel's stance on arming Ukraine with air defenses systems, which Tel Aviv has so far refused to do.
Meanwhile, MPs Zeev Elkin (National Union) and Yuli Edelstein (Likud) held a surprise meeting with Zelensky in Kiev, a day after the Ukrainian president met with Foreign Minister Cohen, who reiterated their support for Ukraine.
Zelensky again called for more support from Israel during the meeting with the Knesset deputies, according to Israeli state broadcaster Kan:
"I am glad that there is finally an embrace from Israel. This includes the chancellor's visit. But I want to see action. I hope to see a change in Israeli policy, especially as Russia and Iran are getting closer. Israel has to help not only with the early warning system, but also with drone defense systems," Zelensky demanded.
Edelstein later confirmed the visit, posting a photo with Zelensky on his Twitter account.
"I met last night with Ukrainian President Zelensky and saw with my own eyes what is happening in the region. Iranian intervention is evident. Iranian technology and weapons are used by the Russians and provide Iran with combat experience. Israel must side with Ukraine against the dangerous combination of Russia and Iran," Edelstein said.
Glad to welcome representatives of the 🇮🇱Knesset, @YuliEdelstein and @zeev_elkin, in 🇺🇦 Kyiv. We discussed the security situation in 🇺🇦 & key aspects of bilateral cooperation in the defense sector. Sincerely grateful to 🇮🇱 for the support & humanitarian assistance provided🇺🇦 🤝🇮🇱 pic.twitter.com/YEJfUE47Yb

— Oleksii Reznikov (@oleksiireznikov) February 20, 2023
On Sunday, the US Ambassador to Israel, Tom Nides, told Tel Aviv's government that it can do "whatever they need" to against Iran, affirming US support on the issue, despite pending US-Iranian negotiations regarding Tehran's nuclear program.
Nides added that as long as Iran provides Russia with drones for its military operation in Ukraine, indirect negotiations with Tehran regarding the revival of the Joint Comprehensive Plan of Action (JCPOA) would not continue. Nides highlighted that a "nuclear Iran" is not just a threat to Tel Aviv but rather to the entirety of West Asia and Washington.
Loading…