Watch: Pete Buttigieg Refuses to Explain Why It Took 3 Weeks to Visit East Palestine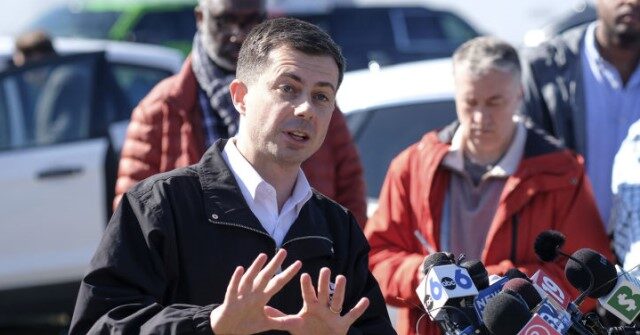 Transportation Secretary Pete Buttigieg on Thursday refused to explain why it took nearly three weeks to visit East Palestine, Ohio, ignoring press inquiries while his own press secretary refused to answer questions with cameras rolling.
Turning Point USA reporter Savanah Hernandez posted footage of Buttigieg's visit to East Palestine, asking the official why it took him nearly three weeks to visit the area, where a fiery trail derailment and subsequent release of toxic chemicals left the community in disarray.
"Why did it take you an entire two and a half weeks to actually get here to respond to East Palestine? Will you apologize to the residents of this city for the slow response," the reporter asked as Buttigieg ignored her, walking away. A woman then approached the reporter, identifying herself as Buttigieg's press secretary.
"I don't want to be on camera, please," she said, offering to answer questions on the condition that cameras were off.
Hernandez asked again why it took Buttigieg so long to respond to the disaster, but his press secretary refused to answer because of the presence of cameras. 
"I'm sorry. I don't want to do this on camera," she said as other reporters jumped in. 
"I'm happy to talk to you guys off camera," she said as Hernandez asked her a question again. 
"I'm happy to have a conversation with you. I do not want to be on camera," the press secretary responded. A man then told members of the press to put the cameras away, to which Hernandez responded it was a public area, and they were, therefore, allowed to have them rolling.
When pressed further, Buttigieg's press secretary asserted that it was "a little bit aggressive" to answer questions to a camera and continued to refuse to do so, ultimately walking away.
WATCH:
I asked Sec. Buttigieg why it took him almost 3 weeks to come and speak to residents of East Palestine.

His press Secretary then told me I was aggressive for trying to ask questions on camera: pic.twitter.com/bOB52DIq0O

— Savanah Hernandez (@sav_says_) February 23, 2023
Buttigieg's visit comes days after he stated he would visit the area when "the time is right." Coincidentally, his visit comes a single day after former President Donald Trump visited the area, delivering truckloads of water and buying McDonald's for first responders.
WATCH– Donald Trump Hangs with Americans at East Palestine McDonald's:
Alana Mastrangelo / Breitbart News
WATCH– Donald Trump Delivers Water Bottles to East Palestine:
Obtained by Breitbart News
"We're like a third-world nation, and this is an example of it, the breakdown. Our whole country is breaking down," Trump said during his visit with East Palestine residents, adding that Buttigieg "should have been here a long time ago."
WATCH– Donald Trump: "Boot Edge Edge" Should Have Been in East Palestine "A Long Time Ago":
Alana Mastrangelo / Breitbart News