Buttigieg's Derailment: NTSB Exposes East Palestine Claim As "Misinformation"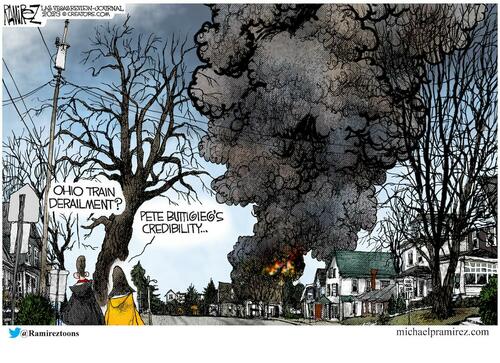 U.S. Secretary of Transportation Pete Buttigieg has been repeatedly criticized for transportation problems, including the holiday pile up at our ports that slowed delivery of goods in December. He was also criticized for his response to the recent airport shutdown. I have not joined in that criticism because I am not sure that he has direct responsibility for some of these problems. However, Buttigieg recently raised a legal claim to blame the Trump Administration for the train disaster in East Palestine, Ohio. The claim was not only manifestly false but Buttigieg knew or should have known it was false.
The implications are deeply disturbing.
When confronted with a disaster, Buttigieg not only made a false claim but attempted to weaponize a tragedy against political opponents.
That is a serious problem for a public figure and worthy of condemnation.
Buttigieg was criticized for his delay in responding publicly to the Ohio disaster and his even longer delay in going to the site. Again, while a politically tone deaf, I was not one of those critics. It is possible to respond to a tragedy without being at the scene. However, the Administration (including the President) were clearly losing ground in its response with many noting the absence of both the President and Transportation Secretary in Ohio after the wreck.
When Buttigieg finally made it to the scene, significant time had passed and many of the details were known publicly on the cause. Buttigieg presumably had even earlier and better information, including the statements of the train crew on the cause.
The crew of the freight train received a warning about an overheating wheel bearing and tried to slow the train in response. According to the report of the National Transportation Safety Board (NTSB), the wheel bearing was heating up for several miles before reaching 253 degrees Fahrenheit hotter than the air temperature. The train engineer employed the brakes and the automatic braking system also activated, but fifty of the train's 149 cars derailed with 11 carrying toxic chemicals.
Given his delay in visiting the site, Buttigieg had more information on the cause of the derailment than just the initial accounts. However, he falsely claimed that "we're constrained by law on some areas of rail regulation," and cited "the braking rule withdrawn by the Trump administration in 2018 because of a law passed by Congress in 2015."
This false claim was picked up by various pundits and politicians, including figures like Joy Behar on the The View. That included Senate Majority Leader Chuck Schumer (D., N.Y.) who went to the Senate floor and declared that, in 2017,
"the Trump administration repealed requirements for an electronic braking system because, according to them, the safety benefits were not worth the cost. I think the people of East Palestine now know that analysis was wrong and that they're suffering the consequences of rail companies putting profits over people."
Yet, politicians and pundits often weaponize tragedy.
A Secretary of Transportation is needed to establish the facts and assure the public that safety, not politics, is driving decisionmaking during a crisis. Buttigieg clearly failed that test in spectacular fashion.
National Transportation Safety Board (NTSB) Chair Jennifer Homendy took the opposite approach and stated the facts dispassionately and without a political spin. She stated that the rule raised by Buttigieg would have applied only to trains classified as high-hazard flammable trains:  "This means even if the rule had gone into effect, this train wouldn't have had ECP brakes."
Homendy sounded more like a cabinet member than Buttigieg when she declared "Enough with the politics on this. I don't understand why this has gotten so political. This is a community that is suffering. This is not about politics." Homendy added that anyone who says otherwise is "spreading misinformation."
Given this Administration's long use of disinformation and misinformation as rationales for censorship, the statement was particularly poignant. Would the Biden Administration demand that Buttigieg be censored by social media in making this claim as it has done with conservative speakers or posters? After all, this was a false claim made on a current public health emergency.
Of course, I would not censor Buttigieg. It is sufficient (as shown this week) that free speech allows for good speech to counter bad speech. However, it is another example of how subjective censorship can be when you go into the business of barring views deemed disinformation.
Even The Washington Post called out the claims of Buttigieg. In a Monday column, Glenn Kessler stated
"We decided to examine every possible regulatory change made under Trump that could be related to the accident and assess whether it could have made an impact. From our analysis, none of the regulatory changes made during the Trump administration at this point can be cited as contributing to the accident."
At a time of tragedy, presidents ideally try to rally a nation to a common cause and shared suffering. They do not always succeed. However, cabinet members are expected to show complete detachment from politics in dealing with tragedies to assure the public that public safety is not being balanced against political expediencies. That is why this false claim is so serious. One of the first major statements made by Buttigieg at the scene was to attack the former president and the expected opponent to President Biden in 2024.
Buttigieg went off the tracks with this political spin. He should apologize.
Loading…