US Tells Nations Not To Work With Assad On Quake As Death Toll In Turkey, Syria Surpasses 50,000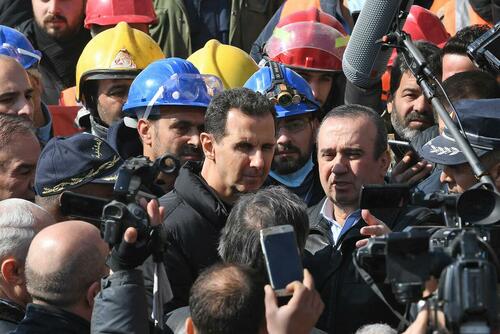 Authored by Dave DeCamp via AntiWar.com,
The State Department at the started of this week reaffirmed its opposition to countries upgrading their ties with the government of Syrian President Bashar al-Assad, even if it is an effort to aid Syria's earthquake relief.
"Our position on the Assad regime has not changed. Now is not the time for normalization. Now is not the time to upgrade relations with the Assad regime," State Department spokesman Ned Price said in response to the news of Egypt's foreign minister visiting Syria and Turkey.
"We believe we can fulfill and that countries around the world can fulfill both of these imperatives, addressing the humanitarian needs of the Turkish people, addressing the humanitarian needs of the Syrian people, without changing or upgrading their relationship with the Assad regime," Price added.
The death toll from the earthquake stands at over 5,900 people in Syria and over 44,000 in Turkey, but the numbers are expected to rise. When the earthquake first hit, Price said the US would not work with Assad's government on the relief effort, saying it would be "counterproductive."
As it's become clear that the US-backed regime change effort against Assad has failed, more countries in the region have been engaging with his government. Engagement with Assad has stepped up since the earthquake as Syria's neighbors are looking to help out.
The US has issued a 180-day exemption for its sanctions on Syria that applies to transactions related to earthquake relief.
But UN experts say the exemption isn't enough and are calling for the US to fully lift the sanctions, which are specifically designed to prevent Syria's reconstruction.
#Syria
Arab Parliamentary Delegation Meets Syria President

A number of parliament speakers of Arab states visited #Damascus in an unprecedented move during the last 12 years aiming at showing support for Syria and held talks with Bashar al-Assad.

Detail: https://t.co/CiWXmRM4wG pic.twitter.com/g5X1I09gfU

— IWN (@A7_Mirza) February 28, 2023
US sanctions on Syria have had a devastating impact on the Syrian people, as recently detailed by Alena Douhan, a UN special rapporteur on unilateral coercive measures, who visited the country in the fall.
Loading…