Queensland Police Service Super Recogniser facial recognition network helps crack 1,000 cases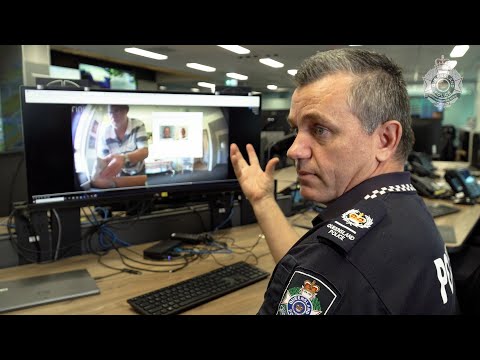 The Queensland Police Service's (QPS) 'Super Recogniser Network' has marked two important milestones; identifying more than 1,000 offenders, as well as being deemed the most 'accurate' in the world.
'Super Recognisers' are the top one per cent of the population who are born with the innate ability to recognise and remember a face – even if they've only seen it once, years ago.
The average person can only remember a limited amount of the faces they encounter, whereas Super Recognisers have the exceptional ability to successfully recall and identify significantly more.
Super Recogniser Senior Sergeant Chris Tritton said the skill was first discovered through research into 'Prosopagnosia', or 'Face Blindness', which is a neurological disorder characterised by the inability to recognise faces, even your own family members.
"Through that work, researchers discovered the other end of the spectrum – people who have long-term memory and rarely forget the face of someone they've come into contact with," Senior Sergeant Tritton said.
In 2019, the QPS moved to capitalise on this skill and asked its officers to partake in an online test.
Twenty QPS officers were found to possess the ability and formed the QPS 'Super Recogniser Network' – a first for Australian law enforcement.
"It's a skill you're born with. We would have arguments at home about who an actor was, I was always right!" Senior Sergeant Tritton said.
The officers, who come from a variety of policing areas like Water Police, Patrol Services and Criminal Investigation Branches, remain in their substantive positions but take time out of each shift to conduct identifications as part of the Network.
"When making an identification, initially you just get a gut feeling but then look for points of confirmation. Generally, it's around the eyes and ears which tend to stay the same throughout our lives," Senior Sergeant Tritton said.
To assist, the QPS developed specialised facial-recognition software called 'QFACE' which cross-checks the image of an offender with more than 10 million faces stored in the QPS database.
The software recommends up to 300 potential matches, with the Super Recognisers then going through to make the final identification.
Since its inception, the Network has helped to identify 1,005 offenders for crimes ranging from robberies, burglaries, sexual offences, domestic violence and unidentified vulnerable people.
The talented officers have even helped to crack cold cases and identify incapacitated road-trauma victims who were injured without identification.
Super Recognisers were integral during the COVID pandemic, identifying border breachers from surveillance footage, even when wearing masks.
In April last year, six members of the Network participated in an international facial comparison proficiency test involving 41 organisations and 106 individuals from the most established facial comparison labs across the world.
QPS Super Recognisers were found to be the most accurate in the world.
The QPS Super Recogniser Network will prove vital during the upcoming Brisbane 2032 Olympic and Paralympic Games, identifying potential threats before a crime is committed and helping to ensure a safe event for all.
South Eastern Region Assistant Commissioner Brian Swan said the network was leading the way across Australian law enforcement.
"The Super Recogniser Network is taking fighting crime to the next level," Assistant Commissioner Swan said.
"We are exceptionally proud of the work these officers are doing in using their unique skillsets to help crack cases across Queensland.
"Being recognised globally for their special skillset, is not only a testament to their talent but also to their dedication and commitment to solving crime and keeping our communities safe."
-from QPS