Trump Demands China Pay COVID Reparations, Vows U.S. Exit from W.H.O.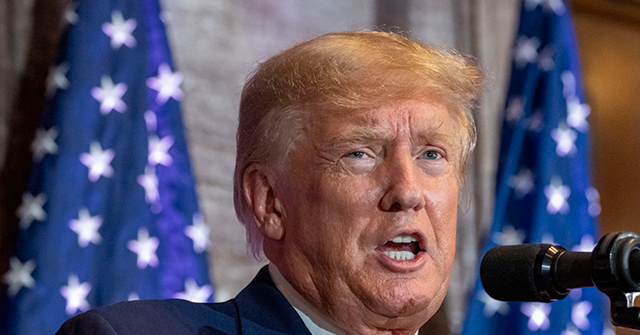 Former President Donald Trump laid out two bold policy initiatives Saturday in the wake of reported U.S. intelligence that suggested the coronavirus originated from a lab in Wuhan, China.
With the 2024 presidential election just around the corner, Trump stated in a Daily Mail op-ed that if he were to again win the presidency, he would demand a global summit on pandemic reparations from Communist China and once again remove the United States from the World Health Organization (WHO).
"Now it's time to hold China—and the corrupt forces who have facilitated this colossal suppression of facts—accountable for the damage they have inflicted upon all of humanity," Trump said, noting that when he first predicted the pandemic originated from a lab "it was called 'racist,' a 'conspiracy theory,' and a claim for which 'there is no evidence'":
The entire globalist establishment—from the World Health Organization, to the media, to Anthony Fauci and the public health authorities, to the corrupt Silicon Valley tech giants, to Joe Biden—worked relentlessly to silence, censor, and shut down any suggestion that the so-called 'lab leak theory' could be true.
Trump slammed President Joe Biden for rejoining the W.H.O. and for terminating the investigation his administration initiated into the origins of the "China Virus."
"We all know the real reason for these censorship campaigns," Trump said. "The 'lab leak' did not serve their political agendas. So they did the Chinese Communist Party's dirty work, and effectively imposed China's propaganda on the Western world."
Trump vowed to "protect our health, and to defend our freedom and independence" by leaving all strong measures against China on the table, including "tariffs, taxes, and a global summit on reparations" upon winning the presidency:
Add to that the probability that the virus emerged from a Chinese government lab, and may even have been engineered by Chinese government scientists, and it is clear that the nations of the world are not just owed a massive apology; they are owed massive damages.
Trump's Saturday policy statements are the latest in a string of positions he has articulated in recent months. On March 2, Trump vowed to rescind Biden's latest equity executive order. On March 1, he said he would strike a peace deal to end the Ukraine war "within 24 hours" if he were commander-in-chief. On February 27, the former president unveiled plans for a "sweeping pro-American overhaul of our tax and trade policy" aimed at encouraging American production and shedding economic dependence on China. On February 9, he detailed his plan for "reclaiming American energy dominance" and creating the "power plants, pipelines, grids, ports, refineries, and shipping terminals of tomorrow."
Follow Wendell Husebø on Twitter @WendellHusebø. He is the author of Politics of Slave Morality.