Study Claims White Drivers Pollute Black, Brown Areas of Los Angeles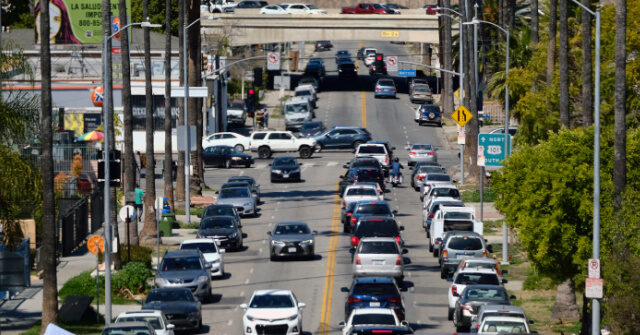 A new study by a set of USC researchers claims that white drivers overwhelmingly pollute black and brown areas of Los Angeles.
Writing in the Los Angeles Times, Sammy Roth reflected on his own alleged "complicity" in polluting the lives of minorities when he discovered that "Angelenos who drive more tend to be exposed to less air pollution — and Angelenos who drive less tend to be exposed to more pollution."
"The core finding is that for every 1% increase in miles driven to and from work by people who live in a particular part of L.A. County, there's an estimated 0.62% decrease in the lung-damaging 'fine particulate matter' to which those Angelenos are exposed," wrote Roth.
Geoff Boeing, a professor at the USC Sol Price School of Public Policy and lead author of the study, told Roth that the alleged problem stems from Los Angeles County's racist history of building highways through "low-income communities of color."
"Today, many residents of the county's whiter, more affluent neighborhoods — who were often able to keep highways out of their own backyards — commute to work through lower-income Black and Latino neighborhoods bisected by the 10, 110, 105 freeways and more," Roth noted.
Boeing said that the white commuters simply drive their cars through those neighborhoods and rarely stop to patronize businesses.
"They're just driving through to get from one side of the city to the other," Boeing said.
Neither Boeing nor Roth addressed the ongoing controversy of gentrification in those neighborhoods, which has caused a slight uptick in localization.
Both Boeing and Roth did admit that some areas of the city where people commute are predominantly white areas – the 2, 134, and 210 freeways, for instance, run through highly affluent areas like La Canada Flintridge, Eagle Rock, and Glendale. Boeing also noted that some of the freeways were built out of geographic necessity, while other neighborhoods, such as affluent South Pasadena, managed to block the building of highways after enough people rallied against such projects.
"Majority-white Westside neighborhoods, for instance, could also be benefiting from ocean breezes that push pollution into predominantly Black and Latino areas," noted the Times article.
The two solutions proposed are not exactly the best, with experts often disagreeing about their efficacy. For instance, the USC study says that more people should be using electric cars, but as Breitbart News reported this week, even ABC News admitted that electric vehicles pose a logistical nightmare:
The gold standard in electric vehicles is the Tesla, and Tesla is also the gold standard in offering reliable chargers everywhere. Still, this gold standard is not all that golden. You can be in and out of a gas station in five minutes. Hell, you can fill your gas tank and rob the gas station in five minutes. Gas stations are awesome for the outlaw and law-abiding alike.

In the best of conditions, if you can find a Tesla supercharger, 200 miles of range takes 15 minutes to 23 minutes to charge. A fill-up takes an hour. And don't forget that cold weather or turning on your air conditioning/heat will eat up those 200 miles pretty quick.

Fifteen minutes might not sound like a long time, but have you ever had to wait five minutes to access the gas pump? It sucks. Imagine 15 minutes. Oh, and what if someone is ahead of you in line? Then it's not 15 minutes? Then it's 20, 25, or 30 minutes. And that's the gold standard.
The Los Angeles Times also noted that electric "vehicles still produce harmful air pollution via dust from brake pads and toxic chemicals in tires. And cars of all kinds can kill pedestrians and drivers."
Some might look to public transit as a solution, but Boeing said that the city of Los Angeles would need to invest more in buses than trains due to the city's sprawling layout.
"It's hard to say that those hundreds of dollars in rail investment are really going to work when there aren't that many people within walking distance of those stations," he said. "Buses need to be a more central part of the solution in Los Angeles, because you can provision hundreds of buses with frequent service for far less money than one train."