Small Banks Soar As Contagion Concern Eases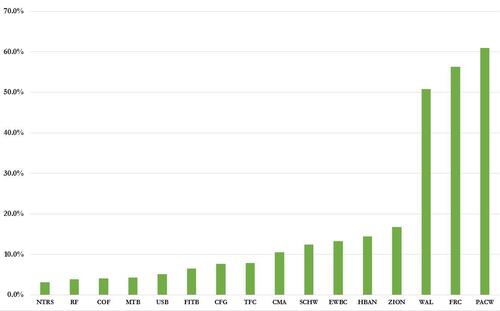 One day after a historic rout among regional banks which saw many loss 50% or more of their market cap, US regionals rallied on Tuesday, clawing back some losses from the selloff seen in the wake of Silicon Valley Bank's collapse, as concerns about wider contagion in the financial system eased.
First Republic Bank jumped as much as 63% for its sharpest intraday gain ever, following a record Monday drop, while PacWest Bancorp surged 64% and Western Alliance Bancorp rose 53%. Meanwhile, bigger banks such as Bank of America and Citigroup also advanced. Meanwhile, Charles Schwab rallied as much as 18% after Ron Baron told CNBC earlier in the day that he had bought stock on Monday as it plunged.
Regional bank stocks "represent one of the best risk/reward in many years" in the wake of the rout, Baird analyst David George wrote in a Tuesday note, saying that "extreme fear and negative sentiment" have been driving the selloff, but "we believe the risk of contagion is generally low and believe investors should take advantage of weakness to add exposure to the group." The view was echoed yesterday by Bill Ackman who tweeted that small banks are an "incredible bargain".
Our economy will not function effectively without our community and regional banking system. Therefore, the @FDICgov needs to explicitly guarantee all deposits now. Hours matter.

We also need a modern version of our deposit insurance regime, but that will take some time, and… https://t.co/38mcc75M9a

— Bill Ackman (@BillAckman) March 13, 2023
That said, while Tuesday morning's bounce is helping stocks pare the recent carnage, they're still far below levels from last week. According to Bloomberg calculations, First Republic would need a 268% rally from Monday's close to reach its closing level from Wednesday, and PacWest would need to jump 174%.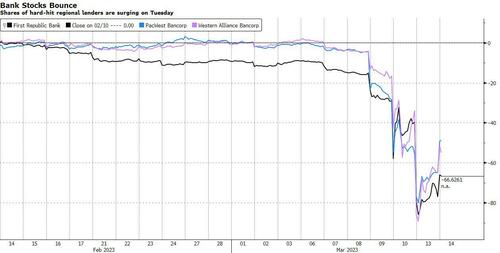 The KBW broad bank Index fell for six straight sessions through Monday and lost a quarter of its value, extending declines even after regulatory intervention was announced over the weekend. It jumped as much as 6.5% on Tuesday.
"Once we move away from initial shock rather than painting everyone with the same brush, there is a tendency to scrutinize the models a bit more, the banks' deposit bases and access to liquidity," said Gary Schlossberg, global strategist at Wells Fargo Investment Institute. "There has been no foot-dragging by the government, we could even see more steps down the road to stabilize the system."
The selloff will "certainly be contained," if there is a suggestion that Fed policy is shifting a bit, he added, although that remains to be seen: bank runs don't stop on a dime and we have yet to see how much money continues to flow out of small banks, whose assets may be propped up courtesy of the latest bailout facility but at this point it's all about their liabilities, i.e. deposits.
Bank bulls got an unexpected booster overnight when one of the market's biggest permabears, investor Michael Burry, said he believes the spreading crisis following the collapse of Silicon Valley Bank could resolve very quickly and that he is "not seeing any true danger."
— Michael Burry Archive (@BurryArchive) March 14, 2023
Yet not all is well. Late on Monday, rating agency Moody's placed First Republic Bank and five other US lenders on review for downgrade, the latest sign of concern over the health of regional financial firms.
Finally, while the banking situation may be stabilizing in the US, it is getting worse in Switzerland. As reported earlier, Credit Suisse found material weakness in financial reporting for 2021 and 2022, which sent the stock to a new record low while blowing out the bank's Credit Default Swaps to a record high.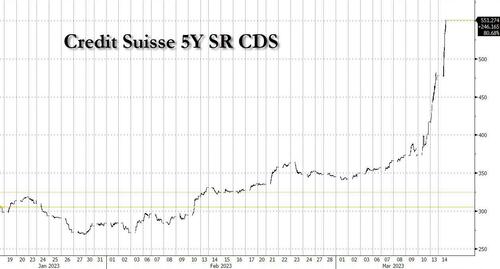 Loading…