North Korea Claims 1.4 Million People Just Enlisted To Fight 'Imperialist' US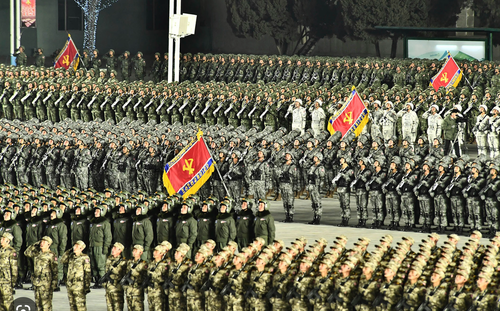 North Korean state media has been touting new claims of mass enlistments amid "an atmosphere of war" and urgent defense preparedness in response to ongoing joint US-South Korea drills, which are the largest in five years.
The state-run Korean Central News Agency (KCNA) initially over the weekend cited a figure of 800,000 citizens having newly signed up for military service, most of them young people, while other state-linked sources are saying it's well over one million enlistees. By Monday the number jumped significantly to claims of around 1.4 million people enlisting. 
"Amidst soaring anger and hostility toward the US imperialists and the South Korean puppet traitors going mad over the reckless nuclear war provocation targeting the Democratic People's Republic of Korea, the ranks of hot-blooded youths bravely and vigorously set out to defend the homeland are growing day by day is growing," a Pyongyang statement said.
The reports follow the North Korean government holding a major new recruiting drive, hosting events across the country while conducting near daily test launches of projectiles – including the latest on Sunday which included a 'mock nuclear warhead' as a warning to Seoul and Washington.
State media described that "youth college students from universities in various places as well as high-end middle school students from all over the country" expressed their determination "to join forces in the fight…"
The KCNA report additionally cited citizens' willingness "mercilessly wipe out the war maniacs" – in what's also clearly a propaganda blitz and bit of signaling aimed at the south and at the west. Kim Jung Un had promised a fierce response to the major US-South Korean drills which have lately included American B1 bombers and stealth jets joining the drills, dubbed Freedom Shield joint exercise.
North Korea's state-run television aired a video of citizens signing up to enlist or reenlist in the military to counter the 'imperialist Americans' and that about 1.4 million people have expressed a desire to join the army as of March 19th https://t.co/VfGfWHBlBF pic.twitter.com/Y3nArTKI7N

— Reuters (@Reuters) March 20, 2023
But it seems Kim hasn't gotten the reaction or attention from Washington that he hoped for, and thus could be daily ramping up the threatening missile launches and rhetoric.
The South Korean military, for its part, promised to continue undeterred with the US drills: "The South Korea-US alliance maintains the best-combined defense posture in the face of North Korea's continued regional instability," a press release said. "Going forward, we will realize 'Peace through Strength' and enhance the credibility of the US extended deterrence based on the solid capabilities and posture of the alliance," it added.
Loading…