3 Reasons Why Hungary Didn't Vote For Sweden's NATO Membership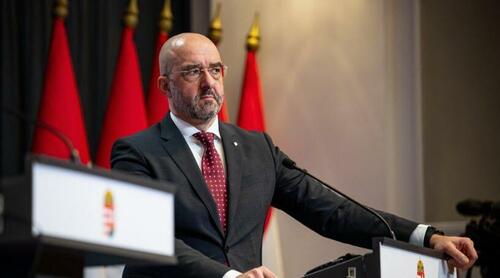 Sweden's supposedly conservative prime minister has called for Hungary's conservative government to be removed from power in the past…
State Secretary for International Communications Zoltán Kovács.
After the Hungarian Parliament approved Finland's NATO application with an overwhelming majority, on Monday, State Secretary for International Communications Zoltán Kovács gave three reasons why the same did not happen for Sweden.
Kovács wrote that "Sweden is constantly undermining (international) relations," its "throne of moral superiority is crumbling," and the country has shown a lack of "care and respect" towards Hungary.
The state minister for international communications stressed that:
"As the war in Ukraine ravages, the ongoing strife is punching holes in Europe's former security fabric."
Kovács said it is therefore commendable and understandable that Finland and Sweden are sitting at the negotiating table to secure their positions in the new geopolitical environment. However, in the case of Sweden, Kovács said there is a "copious amount of grievances" to be dealt with before its accession to NATO is ratified.
Borrowing the ideas of Balázs Orbán, who is Prime Minister Viktor Orbán's political director, Kovács wrote that Swedish MPs have repeatedly used diplomatic means to attack Hungary and used their political influence to "damage Hungarian interests." In Sweden's case, it is not "the usual interference of Brussels bureaucrats," and the problem is not limited to the "Swedish left." In his view, this is a case of declared and open hostility that has been going on for years.
Among other things, he cited the statement made by the current right-wing prime minister, Ulf Kristensen, in 2021. At the time, he said that the EU "must break Hungary." Kristensen was putting pressure on the EU to support the left-wing opposition to oust Hungary's conservative government.
The examples Kovács cites suggest a "perceived moral superiority that is ridiculous at best," if only because it was not the "xenophobic" Hungarian state or its "repressive regime" that allowed a right-wing activist to openly burn the Quran in the middle of Sweden's NATO accession talks, which included a Muslim power, Turkey.
Kovács also wrote that it was not Hungary that excused this "provocation against all human reason" by claiming it was an "expression of freedom."
"The relations between our countries have deteriorated over the years, which makes bridging the gap even more challenging in these difficult times," Kovács wrote. He said this was why the Hungarian government felt it necessary to send a parliamentary delegation to Sweden.
However, the Swedish government is simply not interested, according to Kovács, which is why their officials have described the Hungarian government's intention to negotiate as "blackmail tactics." The state minister said that, given Turkey's concerns, there was now little room to maneuver for Sweden, at least until "they start to change their tune and help heal the wounds."
Loading…