Russian Oil Now Trades Consistently Above $60: Will The West Pretend Its Sanctions Are Still In Force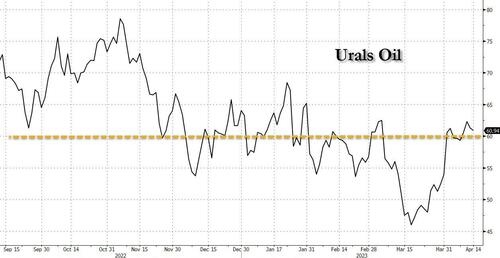 Two weeks ago, in the aftermath of the surprise Saudi/OPEC production cut which took out well over 1 million barrels in supply from the market and sent the price of oil sharply higher, we warned that with Russian Urals oil about to rise above the western price cap threshold of $60, any further increases in its price mean that virtually everyone in the anti-Russian west would be cutoff from Putin's oil if they were to follow the imposed sanctions (and not be exempted from them like, say, Japan).
Fast forward to today when Bloomberg's Alaric Nightingale confirms that the average price of Russian oil has — effectively for the first time — risen above a cap that was imposed by the G-7 industrialized nations.
The International Energy Agency, upon whose data the G-7 relies when reviewing the threshold, said in its monthly oil-market report earlier on Friday that Russian oil has been above the cap level of $60 a barrel since April 5. Its numbers are based on three-day rolling averages, weighted by volumes of barrels shipped.
The cap was imposed on Dec. 5 and, in theory, that level was exceeded at around that time, the IEA's data show.
However, the reason for the spike back then was a brief slump in loadings of Urals, Russia's flagship grade. That artificially skewed the average because Urals is cheaper than other Russian varieties of oil.
The increase in price above $60 means both that the cap is starting to fail and also shows that traders, buyers and shippers are getting increasingly more comfortable with handling Russian barrels and flouting western sanctions. It also demonstrates that a large and surprising cut in oil output by members of the OPEC+ producer alliance boosted the prices that Russian barrels are fetching (just as Russia and OPEC+ intended).
While Urals, Russia's top export stream, remains just around $60 the weighted average of just $60 is well below international benchmarks. The US Treasury has long argued that its goal was to ensure Russian oil trades at discounts, not that there should be a strict adherence to the cap, which clearly is no longer working. 
As Nightingale concludes, the surpassing of the cap is interesting. Urals itself has been trading higher and higher, surpassing $60 a barrel, a price where buyers would no longer be able access western services — especially insurance and shipping — for any Russian trade, or they'd have to give their service providers attestations that would ring alarm bells in the compliance departments of insurance companies.
The fact that Urals is now trading above $60 suggests that yet another bluff by the increasingly more powerless west has been called.
Loading…