Watch: FL Rep Calls Trans Hearing Witnesses 'Demons' and 'Imps'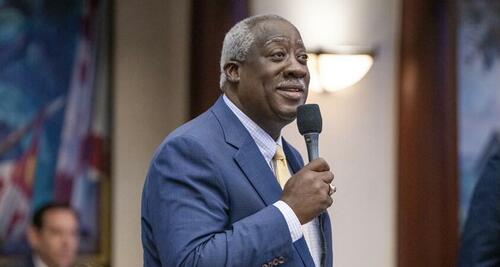 A Florida legislature hearing on a proposed "bathroom bill" brought something of a fire-and-brimstone sermon this week, when Republican Rep. Webster Barney called transgender people "demons" and "imps" — and he made it clear the label applied to the ones sitting at the witness table. 
Barnaby, who represents DeLand, began by saying that when he looks at society today, he feels as if he's watching an X-Men or Marvel movie, such that:   
"We have people that live among us today on planet Earth that are happy to display themselves as if they were mutants from another planet. This is the planet Earth, where God created men male and women female.

I'm a proud Christian, conservative, Republican. I'm not on the fence. There is so much darkness in our world today. So much evil in our world today. And so many people who are afraid to address the evil, the dysphoria, the dysfunction. 
I'm not afraid to address the dysphoria or the dysfunction. The Lord rebuke you, Satan, and all of your demons and all of your imps who come and parade before us."
Apparently responding to shocked reactions from the LGBT and trans activist witnesses in front of him, he continued:
"That's right – I called you demons and imps who come and parade before us and pretend that you are part of this world. So I'm saying, my righteous indignation is stirred. I am sick and tired of this. I'm not going to put up with it."
Florida Republican Rep. Webster Barnaby directly compared trans people to mutants in X-Men and called the trans people, including children, present in the room "demons and imps."

This was during debate for HB1421 that would criminalize trans people using bathrooms. pic.twitter.com/y5VsCKeAfJ

— Alejandra Caraballo (@Esqueer_) April 10, 2023
While "imp" is commonly used to refer to a mischievous child, its first definition in the Merriam-Webster dictionary is a "small demon." 
Committee members of both parties appeared to be unsettled by Barnaby's remarks. Addressing the witnesses, GOP Rep. Chase Tramont said, "You're not an evil being. I believe that you're fearfully and wonderfully made, and I want you to live your life well."
Monday's Florida House Commerce Committee hearing was called for consideration of the "Safety in Private Spaces Act." It would make it a misdemeanor crime for people 18 and over to use a restroom or changing facility that's inconsistent with one's sex assigned at birth — if the fail to "immediately depart" upon request. 
The bill lists a variety of specific types of venues where it applies, including schools, hurricane shelters, substance abuse centers, health care facilities and public accommodations — which covers  restaurants, gasoline stations, lodgings and entertainment spots.  
After the committee sent the bill on for a vote on the Florida House floor, Barnaby gave a brief apology: "I referred to trans people as demons. I would like to apologize to the trans community for referring to you as demons." 
1998 (Florida House photo)
Loading…