Oil Tanker Engulfed In Flames Near Malaysia, Possibly Belonging To 'Shadow' Fleet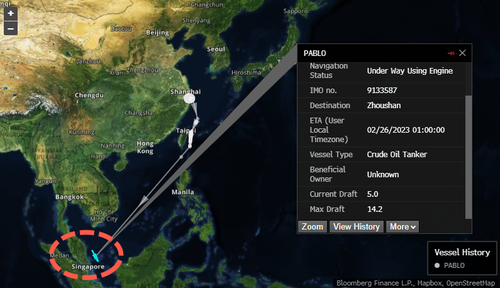 Energy expert Anas Alhajji shared a video on Twitter that appears to show, according to his description, "An oil tanker, known for transporting Iranian oil, catching fire off the coast of Malaysia."
An oil tanker with a history of shipping Iranian oil catches fire off Malaysia. Video below.
Name: Pablo
Year Built: 1997
Flag: Gabon
25 crew members rescued, 3 missing
It was on a trip from China to the UAE pic.twitter.com/FIo4yms2aM

— Anas Alhajji (@anasalhajji) May 2, 2023
Bloomberg said the vessel is named "Pablo," a Gabon-registered Aframax-class crude oil tanker whose insurers are unknown. The vessel burst into flames about 40 nautical miles from Pulau Tinggi, an island off Malaysia's southeastern coast. According to ship-tracking data, Pablo was traveling from China and was empty. At full capacity, the vessel is designed to hold 700,000 barrels.
On Monday, the vessel Pablo caught fire while empty. Weather satellites managed to capture video of black smoke billowing from the ship.
The Aframax tanker PABLO (9133587) caught fire today in the Riau archipelago northeast of Singapore. It seems to have happened at around 06:30 UTC. The vessel had just returned from China, and was (fortunately) empty of crude oil cargo. Of the 28 crew, only 25 are accounted for. pic.twitter.com/ATrq1u1bYi

— TankerTrackers.com, Inc. (@TankerTrackers) May 1, 2023
"A vast shadow fleet of aging tankers has been enlisted to carry sanctioned oil across the globe, raising questions about safety and insurance standards," Bloomberg said. The aging vessel was built in 1997. A shipping source said Pablo was recently observed in Iranian waters.
The Maritime & Port Authority of Singapore wrote in a statement that 25 out of 28 crew members were rescued by passing vessels. Three crew members were reported missing. 
Pablo might be part of a "shadow" fleet of tankers transporting oil from countries sanctioned by the US, such as Iran. The issue with these ships is that some may be uninsured or lack seaworthiness certifications, increasing their vulnerability to accidents. 
As we've recently noted, Russia has a massive shadow fleet of more than 100 tankers to circumnavigate Western sanctions. 
Loading…