Top Senate Republicans Urge Biden to Keep Title 42, Warn of 'Untenable' Illegal Migrant Surge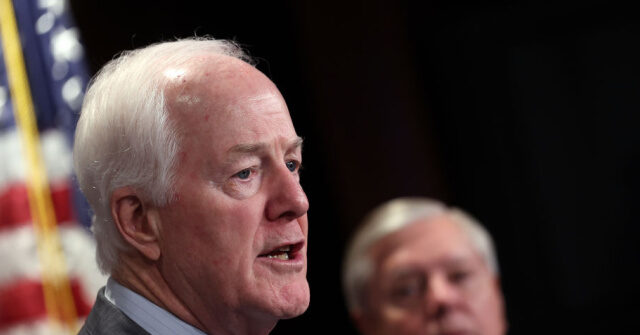 Senate Minority Leader Mitch McConnell (R-KY) and all Republicans on the Senate Judiciary Committee called on President Joe Biden on Wednesday to preserve the Title 42 border barrier, which will expire next week.
"We write today to implore you to reverse your decision to end the Title 42 public health order," wrote McConnell, ranking member Sen. Lindsay Graham (R-SC), and nine other GOP senators.
Title 42 is a Trump-era public health order that has allowed border officials to quickly expel from the U.S. migrants who have crossed the border illegally.
The order is set to sunset on May 11, when the coronavirus-related national public health emergency ends.
The senators warned that illegal migrant encounters could swell to an estimated 13,000 per day once the order lifts.
"This is untenable and will exacerbate what is already a national security and humanitarian disaster on our southern border," they wrote.
NEW ✍️ Ranking Member @LindseyGrahamSC, @LeaderMcConnell and every Senate Judiciary Committee Republican sent a letter to President Biden to reverse course and keep Title 42 in place. pic.twitter.com/DXgiCcqiiP

— Senate Judiciary Republicans (@SenJudiciaryGOP) May 3, 2023
El Paso, Texas, one of the largest cities on the border, declared a state of emergency in preparation for next week, while a local Fox affiliate showed video footage of "more and more migrants with temporary encampments" set up in the city's downtown area.
The anticipated surge comes just after federal data revealed that illegal migrant encounters, which have surpassed a jaw-dropping five million under the Biden administration, have jumped for a third consecutive month.
Fiscal year 2022 had the highest number of illegal migrant encounters ever recorded, the senators said, adding that Title 42 has been a "lifeline … amid the worst border crisis in our lifetimes."
They wrote:
This unprecedented deluge in encounters with illegal aliens shows no signs of abating. We shudder to think about how much worse the situation at the border would have been over the past three years had it not been for the deterrent effect of Title 42. Since the initial order was issued in March 2020, the authority has been used 2.7 million times.
The Biden administration and open borders advocates argue that Title 42 strips illegal border crossers of the chance to claim asylum.
The ongoing crisis is due in large part to the well-documented fact that a majority of the claims are ultimately not accepted in immigration courts. The senators observed that a proposed rule by the Biden administration to attempt to curb bogus asylum claims would be ineffective.
"A rebuttable presumption of asylum ineligibility is a weak response to the rampant and ongoing abuse of our asylum system," they wrote. "Nothing in this rule prevents aliens from making frivolous asylum claims."
The administration also announced this week it would send 1,500 military troops to the southern border for 90 days as it braces for the expected influx; however, Texas Gov. Greg Abbott (R) blasted the move, saying it "does nothing to stop illegal immigration" and that the troops would only be there "primarily to do paperwork."