Report: Canada Gave $200,000 to Group Accused of Chinese Police Ties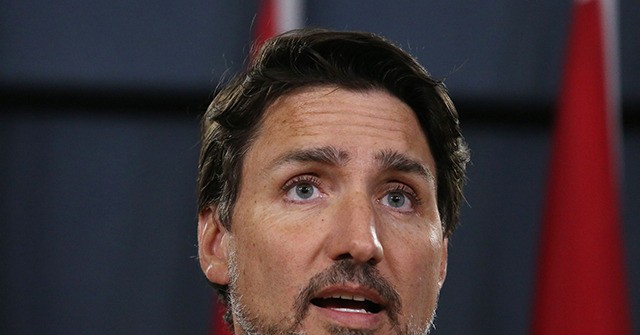 Canada's National Post and Canadian Press reported on Friday that a Montreal charity suspected of potentially hosting an illegal Chinese police station received up to $200,000 in Canadian taxpayer funding.
The Royal Canadian Mounted Police (RCMP) confirmed in March that it had opened an investigation into the offices of two organizations in Quebec suspected of hosting an illegal Chinese government police station on their premises: the Sino-Québec Center and the Service à la Famille Chinoise du Grand Montréal (SFCGM), or Chinese Family Service of Greater Montreal.
Thursday's report reveals that SFCGM financial records appear to show the group received about $200,000 from the federal Canadian government since 2020.
"Specifically, the charity reported receiving $178,450 from the federal government in 2020-2021 and $21,728 in 2021-2022," the National Post detailed. "A federal government grants and contributions database lists a [sic] five contributions from Employment and Social Development Canada (ESDC) to SFCGM going back as far as 2018." The Post noted that the same database showed "the SFCGM received funding via the government's Canada Summer Jobs program every year since 2018 (except in 2019) worth $14,822 to $22,989."
The bombshell report follows weeks of escalation in tensions between communist China and the far-left administration of Prime Minister Justin Trudeau, who has expressed "admiration" for the genocidal regime but is facing tremendous public pressure to contain Beijing's interference in Canadian politics.
Ottawa expelled Chinese diplomat Zhao Wei last week after evidence surfaced that Zhao had organized an effort to identify and threaten the Hong Kong relatives of Member of Parliament Michael Chong, a vocal opponent of the Communist Party and advocate against the Chinese government's genocide of Uyghurs and other Turkic ethnic groups in occupied East Turkistan.
Chong condemned the Trudeau government last week for not doing enough to protect him or others potentially targeted by a nefarious foreign operation:
The government did nothing about a person in Canada that was targeting me and my family and targeting other members of parliament. The government knew about this two years ago and did nothing. In fact, they continued to accredit this individual as a diplomat, giving this individual special rights and immunities not afforded to Canadians, allowing this individual to continue the correction and intimidation campaign.
Prior to the Zhao Wei incident, the human rights organization Safeguard Defenders published a report last year detailing the rapid growth of illegal Chinese police stations across the planet, including multiple sites identified as police stations in Canada. The Safeguard Defenders report listed Canada alongside the United States, Spain, Japan, Ireland, and a host of other nations where the Communist Party had dispatched unauthorized law enforcement operations used for "transnational repression": to spy on, intimidate, and forcibly repatriate anti-communist dissidents.
The Communist Party openly admits to having established the bases but claims they are "service stations" used for benign activities such as renewing driver's licenses.
The Chinese Family Service of Greater Montreal (SFCGM) bills itself as a charity group that helps recently arrived Chinese immigrants settle in Canada. It was founded in 1976 and lists among its services French and English language courses, "senior services," and help finding jobs.
In March, following an announcement by Canadian law enforcement that it would investigate two organizations in Montreal for hosting illegal Chinese police stations, the Toronto Star published a report revealing links between the administrator of the SFCGM, Li Xixi, and China's United Front Work Department, a sprawling umbrella organization used to ensure that all Chinese government, civil society, and economic organizations dutifully parrot Communist Party propaganda.
"A 2016 news story on the China News Service platform, 'Overseas Chinese website,' includes a photo of Li receiving a plaque for the Chinese Family Service of Greater Montreal designating it an Overseas Chinese Service Centre," the Star report narrated. "The woman in the photo giving Li the plaque is Qiu Yuanping, then the director OCAO [Overseas Chinese Affairs Office], according to the article."
"OCAO became part of mainland China's United Front Work Department, a department tasked with forwarding the agenda of the Communist Party of China, in 2018," the Star concluded.
The National Post reported on Thursday that the SFCGM vehemently denied any ties to the Communist Party in March, accusing Canadian law enforcement of "causing serious and potentially irreparable harm to the [Chinese-Canadian] community" by investigating it. The organization reportedly did not respond to requests for comment from the Post.
The Chinese Foreign Ministry addressed growing concerns of illicit Chinese police activity in Canada on Monday, insisting, "there is [sic] no so-called overseas police stations."
Foreign Ministry spokesman Wang Wenbin told reporters:
The relevant institutions helped overseas Chinese who could not return to China due to the pandemic renew their driving licence and perform physical examination. They are not so-called police stations or police service centers at all. The local Chinese groups who helped provide venues for the services and the volunteers are Chinese from the local communities who are willing to help their compatriots, not Chinese police personnel.
Wang also claimed the "service centers" had been closed as China had lifted its most repressive coronavirus measures.
Follow Frances Martel on Facebook and Twitter.