US Services PMI Soars To 13-Mo Highs, Manufacturing Tumbles Back Into Contraction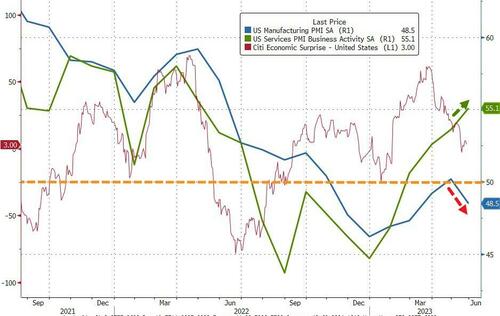 After an ugly wave of manufacturing PMIs across the euro-zone (and UK), preliminary US PMIs for May were expected to decline (tracking the recent serial disappointment in macro data). The flash prints were dramatically different (like in Europe) with Manufacturing plunging to 48.5 (contraction) down from 50.2 (that was the first time back above 50 since Oct). Services, however, surged to 55.1, the highest print since April of last year…
Source: Bloomberg
Put together, the headline S&P Global Flash US PMI Composite Output Index registered 54.5 in May, up from 53.4 in April, to signal a solid and faster expansion in private sector business activity.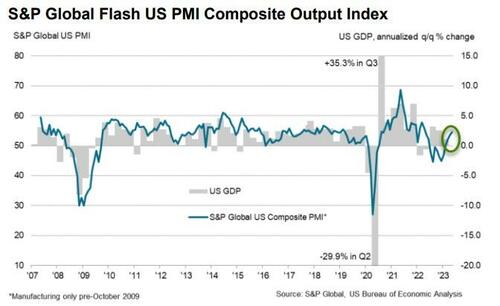 Commenting on the US flash PMI data, Chris Williamson, Chief Business Economist at S&P Global Market Intelligence said:
"The US economic expansion gathered further momentum in May, but an increasing dichotomy is evident. While service sector companies are enjoying a surge in post-pandemic demand, especially for travel and leisure, manufacturers are struggling with over-filled warehouses and a dearth of new orders as spending is diverted from goods to services.

"The inflation picture is also changing. Whereas manufacturing prices spiked higher during the pandemic due to strong demand and deteriorating supply, it is now the service sector's turn to be hiking prices amid resurgent demand and an inability to cope with order inflows due to a lack of capacity.

"Jobs growth has accelerated as service providers companies seek to meet demand, but this tightening labour market amid strong demand will be a concern as a fuel of further inflationary pressures."
Stagflation?
Loading…