Chess Bans Trans | ZeroHedge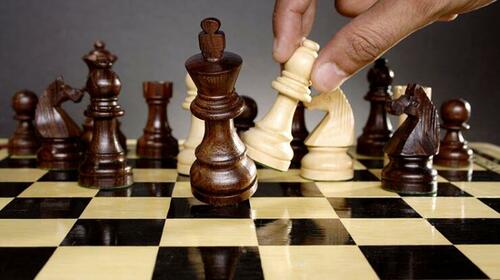 Authored by Steve Watson via Summit News,
The International Chess Federation (FIDE) has has become the latest governing body to completely ban trans-identifying biological men from competing in women's competitions.
FIDE introduced new guidelines that state "In the event that the gender was changed from a male to a female the player has no right to participate in official FIDE events for women until further FIDE's decision is made."
"Such decision should be based on further analysis and shall be taken by the FIDE Council at the earliest possible time, but not longer than within 2 (two) years period," the guidelines add.
The guidelines continue, "If a player holds any of the women titles, but the gender has been changed to a man, the women titles are to be abolished."
"Those can be renewed if the person changes the gender back to a woman and can prove the ownership of the respective FIDE ID that holds the title," the rules now state.

"The abolished women title may be transferred into a general title of the same or lower level (e.g., Women's Grand Master may be transferred into FM, Women's International Master into Candidate Master, etc.)," the guidelines further state.
FIDE noted that it made the changes after receiving recognition requests from players who identify as transgender, in addition to cases where men have been caught disguising themselves as women in order to win prize money:
Stanley Omondi, disguised himself & cheated through Chess Kenya open as a woman where he was poised to win Sh500K. Omondi, kept his identity a secret by wearing a niqab and using the name Millicent Awuor. pic.twitter.com/QAWTJ59jLs

— Kenya West (@KinyanBoy) April 13, 2023
The governing body also notes that "are no restrictions to play in the open section for a person who has changed the gender," referring to a non gender specific category of competition.
Women are also not banned from competing in men's chess events should they choose to, primarily because there are way fewer women chess players than men.
Unsurprisingly, trans activists have branded the move as "pure bigotry and persecution," with others also arguing that because chess is not a physical sport, it signals that the governing body believes women are intellectually inferior.
This is insane. Trans women banned from playing women's CHESS by the International Chess Federation. Pure bigotry and persecution. How can you justify this @FIDE_chess ? https://t.co/00yCEzXxzm

— India Willoughby (@IndiaWilloughby) August 16, 2023
Really? Chess?

This is so insulting to cis women, to trans women, and to the game itself. It assumes that cis women couldn't be competitive against cis men – and relies on ignorant anti-trans ideas. https://t.co/vbvJp346QA

— National Center for Transgender Equality (@TransEquality) August 16, 2023
There is no physical advantage in chess unless you believe men are inherently more able to play than women – I spent my chess career being told women's brains were smaller than men's & we shouldn't even be playing – This ban is ridiculous & offensive to women https://t.co/JWewV1YJcr

— Angela Eagle DBE (@angelaeagle) August 17, 2023
Others pointed out that the matter is more nuanced:
If the event is segregated by sex, then it should be for females. Nothing to do with being 'inferior' – the event is allowing females to compete against females. Why shouldn't TiM get to compete in them? They aren't female, that's why. https://t.co/mIpM9WxxlK

— Tish Reid OLY #SaveWomensSports (@OsteopathTish) August 17, 2023
Also people who take it as completely normal that men who say they are women should want to compete in the women's category, and yet assume that the only reason women could want to defend their own category is hatred and discrimination. One rule for women, another rule for men.

— Anya Palmer (@anyabike) August 17, 2023
Newsflash: Women are not there to validate men in their metaphysical beliefs about themselves.

— Anya Palmer (@anyabike) August 17, 2023
I'm sure he doesn't mean the category itself, but the exclusion of men-who-say-they-are-women from it. But if there are good reasons for the category to exist, and that doesn't seem to be in dispute, it's not "hatred" to say that men don't belong in it, however they identify.

— Anya Palmer (@anyabike) August 17, 2023
Indeed. And Ian knows that. And has known it since 2016. Last time he mentioned it. pic.twitter.com/S93ZqnW4e4

— Anya Palmer (@anyabike) August 17, 2023
Related:
*  *  *
Brand new merch now available! Get it at https://www.pjwshop.com/
In the age of mass Silicon Valley censorship It is crucial that we stay in touch. We need you to sign up for our free newsletter here. Support our sponsor – Turbo Force – a supercharged boost of clean energy without the comedown.
Also, we urgently need your financial support here.
Loading…