Who's Allergic To Thimerosal? Please Raise Your Hand By TLB Contributing Writer: Lori Almost a year ago I started working in a chemical plant in shipping.  I see a lot of labels come through my area.  Some of the products are low toxicity and some are very toxic.  Products that are very toxic require special packaging when it comes to shipping.  They have to be inside a plastic bag with an absorbent pad inside the bag.  Padding is placed around the products in the box and stickers are placed  are on the box as to the toxicity of the products in the box.
Products that contain mercury have a Skull and Bones diamond on them.  The label looks very similar to this label.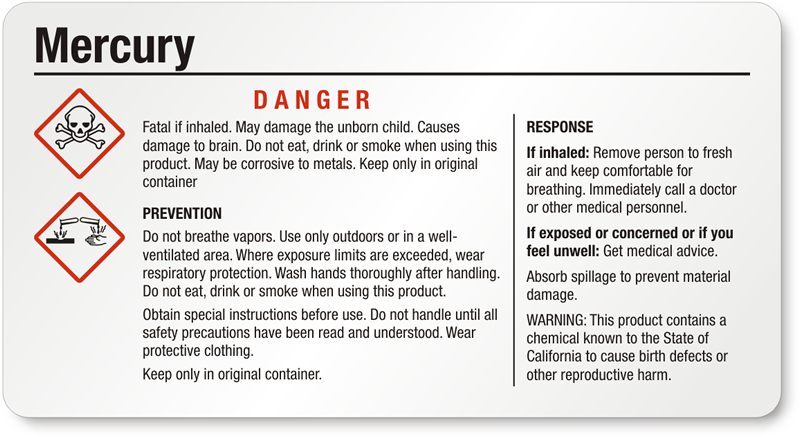 As I've explained in blog entries before, Thimerosal is 50% mercury. It's been touted by the CDC, FDA and the WHO as a safe ingredient in vaccines. However, is this true? What does the science say?
Let's take a look at the toxicity of Thimerosal.
The LD 50 means LD50 is an abbreviation for "Lethal Dose 50%." The LD50 value for a chemical is the amount of chemical that can be expected to cause death in half (50%) of a group of a particular animal species when the chemical enters the body by ingestion or skin absorption. The amount required to cause death is normally related to body weight: therefore, the LD50 is expressed in milligrams of chemicals per kilogram of body weight (mg/kg). A typical LD50 statement includes the substance, the route of entry, and the animal species; as shown below:
Toxicological Data on Ingredients: Thimerosal: ORAL (LD50): Acute: 75 mg/kg [Rat]. 91 mg/kg [Mouse].
II. Hazard Identification: Classification of The Substance Or Mixture According to Regulation (EC) No 1272/2008 [EU-GHS/CLP]: 
Acute toxicity, Inhalation (Category 2)
Acute toxicity, Dermal (Category 1) 
Acute toxicity, Oral (Category 2) 
Acute aquatic toxicity (Category 1)
Chronic aquatic toxicity (Category 1)